Chuck season 5 intersects its ultimate end with its penultimate twelfth entry in this week's "Chuck Vs. Sarah," as Sarah returns harboring a dark secret from Nicholas Quinn (Angus Mcfadyen) while Team Bartowski searches for the final Intersect. "Chuck Vs. Sarah" has a mostly thankless role to play in the Friday night two-part finale, but still serves up one of the darkest, most memorable hours yet.
Obviously 'Chuck Vs. Sarah'isn't the highlight of our Friday night, given that NBC decided to air both 'Sarah'and 'Chuck Vs. The Goodbye'back to back as one two hour-long series finale, but I'd be remiss if I didn't treate the two separately and offer up a few quick thoughts on the penultimate Chuck episode.
After all, Chuck has been a joy to watch, discuss and write about for five years now, and I just wouldn't be a fan (or a capitalist) if I didn't take every opportunity to talk about this much-beloved series.
'Chuck Vs. Sarah'faces something of an awkward role in its position as the penultimate Chuck episode, serving both as a stand-alone episode and the bridge to the series finale itself. With Sarah's memories of the last five years totally erased, we're essentially back to the basics of season one in the awkwardness between her and Chuck, serving as a sort of nostalgic reminder of just how far the two have evolved in five seasons.
At the same time, 'Chuck Vs. Sarah'works on hammering home the idea that we've indeed come upon the end, sometimes haphazardly positioning us toward 'the future,'whether in Morgan's meta-reference or Devon and Ellie's sudden invitation to co-manage a hospital in Chicago. Transition episodes are never easy, but here Chuck manages to pack just enough emotion and action into an hour that nothing feels too amiss.
Watching Chuck has always been bittersweet given its uncertain future and limited budget, but perhaps never more-so with an idea as rich as pitting Sarah against her husband and former teammates. The idea of an 'evil Sarah'was mostly played for laughs in season four, but here seems genuinely frightening given the character's well-established proficiency, and the emotional devastation created in her wake. I imagine that another series (maybe Alias) might have had room to play something like this over the course of a full season, but we'll have to make due with these two episodes. Perhaps it's best left as a short arc, given how the concepts of Sarah's memory and identity raise larger philosophic questions that even shows like Dollhouse weren't big enough to tackle, let alone Chuck.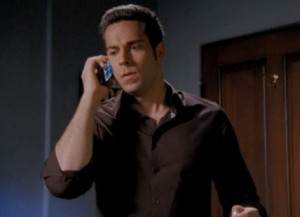 The best part, however, of 'Chuck Vs. Sarah'very much comes from Zachary Levi, who gives his most emotional Chuck performance to date in desperately trying to win back his wife from her memory-loss. Sometimes it isn't about how cleverly the series can choreograph its battles, but rather the emotion behind them, and Chuck has never been more heartbreaking than the knock-down, drag-out fight through the barely-dressed halls of their once dream home. 'Chuck Vs. Sarah'essentially capitalizes on the title character's greatest fear since the first season, the idea that the beautiful woman can only see the nerdy guy as a mission rather than a man.
I'm thrilled that we got to explore one last, last, last mission with Team Bartowski before the end. That perfect balance of fun (Morgan's amusement at the DARPA invisibility cloak), nostalgia and heartache are what made the series so sweetly poignant to begin with.
And Another Thing…
Sorry, still not buying Nicholas Quinn as a villain. Maybe we could have chosen someone a little younger, maybe in better shape to resonate as a physical threat to both Chuck and Sarah?
I wondered in the beginning why Sarah wouldn't ask Quinn for additional log entries to confirm his story, but I'm glad we got to see Casey be the one to show her, in a wonderful two-sided performance for Yvonne Strahovski.
Not to get all philosophical, but could Chuck really destroy the Intersect? Like Iron Man, isn't a certain level of scientific advancement inevitable, no matter who has the first breakthrough?
I wrote 'BE ALL THE BADASS!'in Sarah's one-woman guard smashing scene.
I guess it would have been a little convoluted to explain, but it amuses me that both Chuck and Sarah separately refer their first kiss after attempting to defuse a bomb, but neglect to mention it turned out to be Bryce Larkin in stasis.
Finale time! Watch, watch, watch!
What did YOU think?
Tell us what's wrong with this post? How could we improve it? :)
Let us improve this post!