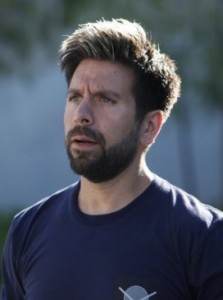 Chuck season 5 zooms on its third entry with this week's "Chuck Vs. The Frosted Tips" as our favorite spy team at Carmichael Industries faces the Intersect-ed Morgan Grimes himself when the bearded agent gets too big for his britches, and joins up with Gertrude Verbanski (Carrie-Anne Moss) at Verbanski Corp. Easily the strongest outing yet of Chuck season 5, the series still feels just a few "zooms" shy of greatness.
I confess that I've always loved Chuck, in spite of its flaws. The show exudes a warmth and love of geek culture that frequently transcends its missteps with action /adventure, and it's hard to judge a series when NBC so often batted its fate around, unable to properly develop story arcs that brew over a full season. Season 4 even represented a step in the right direction as far as adding some much-needed maturity to the series, in spite of some failed executions (cough, Vivian Volkoff).
When the news broke that Chuck had definitively received a thirteen-episode fifth season, I felt little else but relief, that a clear endpoint would allow tighter, more meaningful storytelling, something 'Chuck Vs. The Frosted Tips'proves to a T, or tip, rather. I didn't love the first two episodes of the season, but appreciated rather that they set up the grounds to unfurl here, a long awaited conflict between Chuck and Morgan for who deserves the spotlight (or the Intersect) more.
It's a classic hero team drama, perfected in series like Buffy the Vampire Slayer, asking what becomes of the hero's ineffectual friends after years of facing danger and needing rescue — does one rise to the challenge and work to become a hero in their own right, or continue relying on a superpower for protection? I don't know that Morgan quite earned his status as a badass by accidentally inheriting the Intersect, but that's the conflict we're presented with in 'Chuck Vs. The Frosted Tips.'Their roles reversed, Morgan finally antagonizing Chuck for his years in the spotlight feels like an honest progression of the narrative, even if it's cheapened by being a 'Trojan Horse'of the CIA's design.
The fact that Chuck's last two episodes set up the thread, and continue the plot into at least next week imbues me with great hope for Chuck's fifth season, which already feels much more tightly woven and designed. In some cases even the little things make a world of difference, Chuck himself largely holding his own in combat against an Intersected Morgan, or Ellie effortlessly brought in to consult now that she's connected to the spy world. Timing, and confidence in an endpoint for both the character and series always make for better Chuck.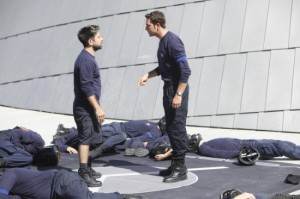 But what would Chuck be if not for side stories outside of Carmichael Industries and the spy life, or a sense of light-hearted fun? It grows harder and harder to justify their position within the narrative, particularly when neither Jeff nor Lester and the rest of the Buymore show any true character development. Captain Awesome relegated to baby duty doesn't generate the most exciting of B-stories either, but by episode's end his ability to advise Morgan on losing your identity in your work felt like an earned, and heart-warming connection. I'm less than sold on the idea of a sober Jeff automatically reverting to complete milquetoast, but I'm willing to see where the story goes.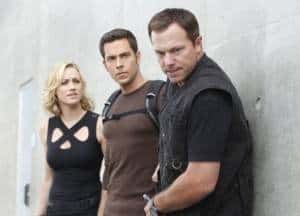 Less effective I found to be Casey's flummoxed courtship or returning Gertrude Verbanski (Carrie-Anne Moss), mostly because we're being sold on the idea that Casey conveniently holds a long-standing rivalry and unrequited boyish affection for a character we'd never heard of. Don't get me wrong, Casey stories are at their funniest placing the brutish Adam Baldwin out of his element in awkwardly frustrating situations, I'm just not crazy about this development arriving so late in the game, and steamrolling any history with Alex (Mekenna Melvin)'s mother Kathleen, or other past loves. Yes, Casey's erotically charged fight with Gertrude certainly ranks among the more classic Chuck moments to mix action, humor and romance, but it feels unfair of Chuck's writers to toy with their audience by introducing plot threads we barely have time to develop.
As I mentioned before, Morgan's bad behavior coming as a result of the Intersect's programming cheapens what had up until then felt like real drama, even if it connects back to the history between Chuck and Morgan and puts a sweet bow on an otherwise flaccid turn. Even then, what was Decker and the CIA's endgame, even if Chuck had received the defective Intersect? To have his identity slowly deleted to become a more manageable asset? Hopefully the remaining ten episodes of the series shed a little light on the larger plan at work here.
Chuck earned our faith on the strength of its first two seasons, and the more effective offerings of its notoriously uncertain third and fourth, and I for one remain confident Josh Schwartz and Chris Fedak can bring it home with style in season 5.
And Another Thing…
Great to have General Beckman (Bonita Friedericy) back, and Morgan's always uproarious interactions with her.
I had a chance to speak with Mekenna Melvin (Alex) recently, which we'll post next week, so we'll be seeing plenty of her in the coming weeks, too.
Hello, Yvonne Strahovski in the morning. Yowza.
Of COURSE there would a bullet-time reference for Carrie Anne-Moss.
Did…Devon really make Morgan put on a gown for that examination? In his home?
What did YOU think?