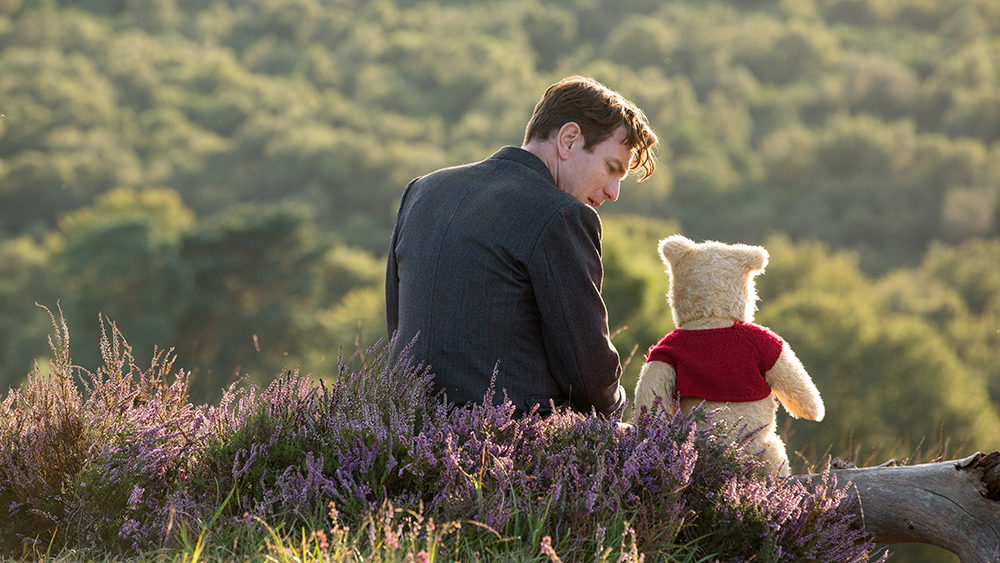 While I was a voracious movie-goer growing up who would devour every last movie I could get my hands on (especially the ones that I wasn't supposed to), I must confess to having a few glaring blind spots from my younger days that I have only recently corrected. For instance, I never saw Bambi (1942) until my then-girlfriend sat me down A Clockwork Orange style and made me when I was already well into my college years. I didn't see Dumbo (1941) until my now-wife similarly forced me to watch it after I already had my degree in-hand. And, until earlier this year, I had never seen The Many Adventures of Winnie the Pooh (1977).
So when it came to Christopher Robin (2018), Disney's live-action continuation of the Winnie the Pooh, I wasn't motivated to see it because of nostalgia nor because I had grown up with the character in much the same way that the film's protagonist had. Because, other than the clever gimmick of the movie unfolding on the literal pages of a child's picture book, I hadn't any love for the franchise. I went to see it for the exact same reasons I went to see Won't You Be My Neighbor? (2018) (a Mr. Rogers documentary whose subject matter had been similarly absent from my childhood): the trailers looked good and the movie had been getting strong word-of-mouth ahead of its release.
Oh… and my wife wanted to see it too, I guess. She can't seem to get enough of that silly old bear.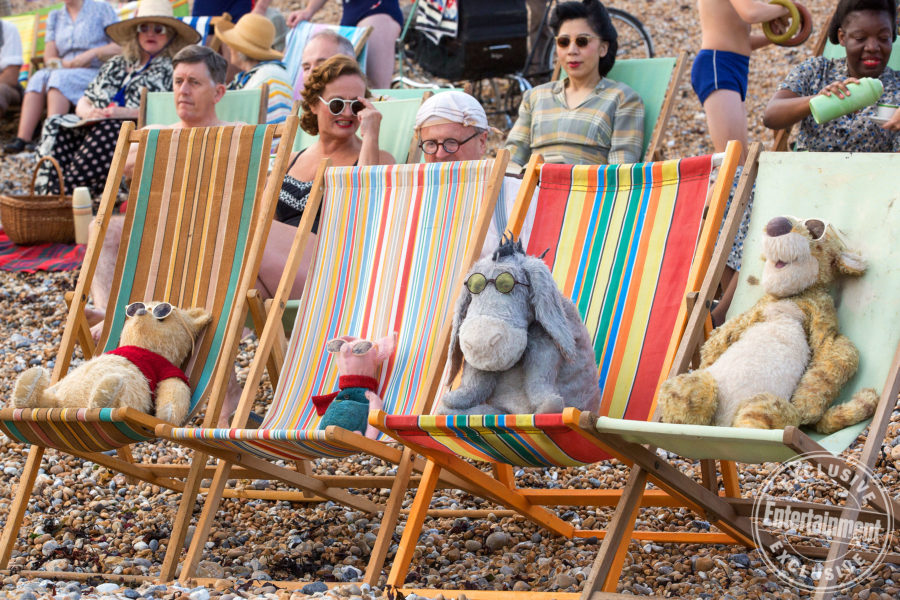 What I found in the dark of the theater was a remarkably charming story about a boy growing into a man who was, in a predictably period fashion, had to put away childish things. And now, full-grown and the busy-bodied head of a growing household, what we see of him is merely the dim reflection of the bright-eyed boy that he used to be. He sacrifices his family and his free time to toil endlessly at work (being the efficiency manager at a struggling luggage manufacturer).
But a darkness has descended over the Hundred Acre Woods in his absence. And Pooh (who is, as it turns out, very much real) has lost all of his friends in the iridescent mists creeping through his familiar homeland. In his desperation, he tracks down Christopher Robin in London to help him find his missing friends, and perhaps remind him of the boy he once was.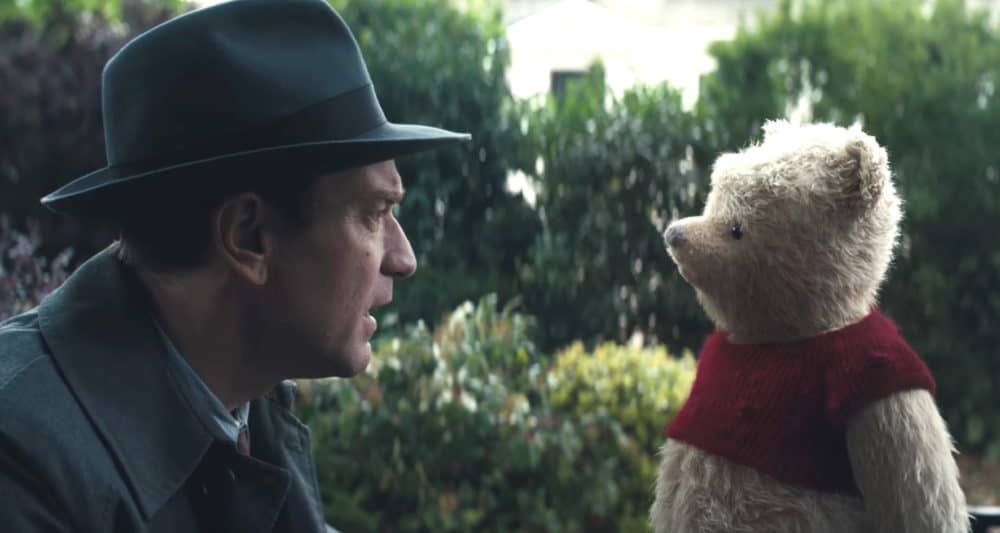 There is, of course, nothing decidedly novel about this movie (in its premise or otherwise). It's Hook (1991). It's Mary Poppins (1964). It's any number of countless "busy but well-meaning father unwittingly hurts his family by choosing work over his children and must learn to let go and be a kid again for their sakes" narratives that have been baked into the bedrock of family entertainment for decades. It is, for all intents and purposes, the same Pooh, the same Piglett, the same Eeyore and Tigger too. It's anything that you might have expected from (or even hoped for in) this kind of a movie.
Yet I'd be lying if I didn't say I was completely along for the ride from the word "go." The friendship between Christopher and his stuffed playmates is genuinely touching, especially after the awkwardness from being so long separated melts away into quiet familiarity. The entire cast (Human or otherwise) was truly exemplary: even the supporting characters that find themselves with relatively little to do while Christopher Robin runs around trying to find himself once more. And the special effects that render Robin's well-worn animal friends into scuffed-around-the-edges teddies are deceptively gorgeous to watch on the big screen, where every fair follicle and streak of dirt is individually rendered in perfect detail.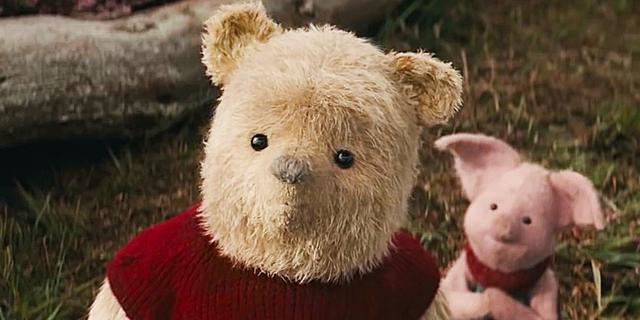 The film plays refreshingly true-to-form with what I do passingly know of the franchise. Rather than as a grandiose narrative of lost-and-found childhood, it comes off more as a series of three loosely-connected short stories: one in which a now-adult Christopher Robin reunites with Pooh in the "real world," one in which they travel back to rescue their lost friends and one in which (almost) the whole gang teams up with Robin's young daughter Madeline on a rip-roaring London adventure. Each is fun enough in its own right and is gone long before it overstays its welcome (even if the kids in my audience seemed to get a touch restless when things slowly moved along in the film's first act).
Following a touching goodbye sequence in the films opening minutes, director Marc Forster pulls back into a montage only outdone by Up (2009) in how it's able to silently convey the emotional arc of a lifetime in an almost wordless sequence of fleeting moments. And in its final minutes, the film delivers an emotional wallop that I never knew had in it.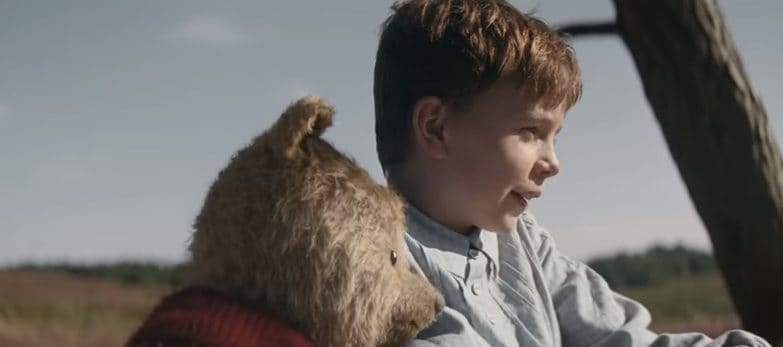 Unquestionably the best "family" movie we've gotten so far this year, Christopher Robin is the perfect thing for exhausted breadwinners and people that make up their life. And though perhaps it is often a bit too familiar, it's a fun film who's positive qualities often come as a delightful surprise without any build-up or preamble. Much like Pooh himself, it's simply content to be itself, and that's something we all could stand to see these days.
Rating: 3/5