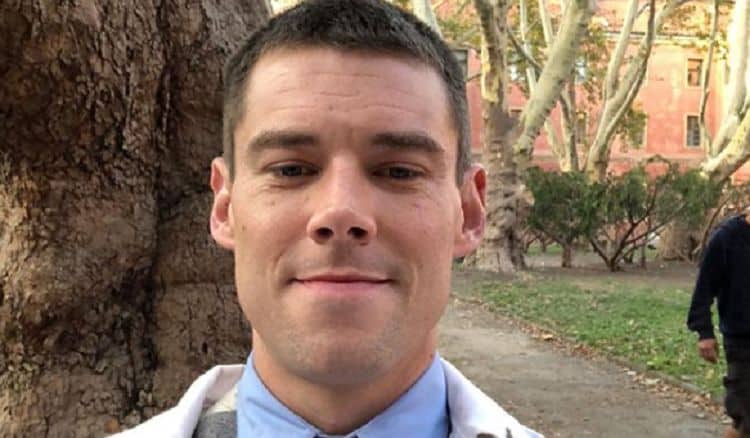 Speculation about Brian J. Smith's sexuality has been raging for a while, but in the December issue of Attitude, the actor finally put the rumors to bed by talking openly about his sexuality for the first time. Speaking about the hardship of growing up closed in the Dallas superb of Allen, Texas, the actor revealed he'd come out to his parents over 8 years ago, and has finally learned to channel his childhood pain into his work. To learn more about the Tony-nominated actor, keep reading.
1. Michael Urie was an early mentor
As a kid, Smith performed in numerous high school productions and even dabbled in community theatre. It was at community college that Smith first met Ugly Betty star Michal Urie, who, impressed with Smith's talents, encouraged him to try out for Julliard. Smith did, and subsequently landed a place on a four-year acting program at the famous New York School.
2. He almost enrolled in the army
After graduating from Julliard, Smith suffered so many setbacks in his attempts to make it as an actor, he came close to throwing in the towel and joining the army. "I was two months behind in the rent, I didn't have insurance and I'd just auditioned for [a role] and was told they went with somebody else," Smith told NY Post. "I figured, it's a sign! I went to the recruitment office on West 72nd Street and was going to show up the next morning at 8 for a physical." Fortunately, his agent called him just in the nick of time, revealing the part he'd thought he'd lost was now his for the taking. "He screamed, 'What!? You can't do that – you have to be in New Mexico next month," Smith went on to share. "The other guy passed, and the role is yours!'"
3. His film debut was in Hate Crime
After starring in several theater productions to great reviews, Smith landed his first film role in the 2005 movie, Hate Crime. In the film, Smith portrays the character of Trey, a young gay man who becomes the victim of a homophobic hate campaign. Despite receiving scathing reviews, the film picked up a slew of awards, including Best Feature Film at the Dallas Audience Awards, Audience Award for Best Feature and Q Award for Best Feature at the Fort Worth Gay and Lesbian International Film Festival, and Director's Choice Award for Best Feature and Audience Award for Best Feature at the Sedona International Film Festival.
4. His first TV appearance was in Law & Order
In 2009, Smith made the transition from film to TV with a minor role in the long-running series, Law and Order. That same year, he was cast in the leading role of Matthew Scoot in Stargate Universe, a role he later reprised in Stargate Universe Kino. Since then, Smith has appeared in a host of popular TV shows, including Gossip Girl (2011), Coma (2012), The Good Wife (2012), Blue Bloods (2013), Sense8 (2013-2018), Treadstone (2019), and World on Fire (2019).
5. He's a Broadway sensation
Theatre was where Smith started his acting career, and theatre is where he's achieved a lot of his success. His portrayal of Alex in A Clockwork Orange in a Quad C Theatre production drew raves reviews in his Julliard days, while his performances in Broadway's Come Back, Little Sheba (2008), The Columnist (2012), and The Glass Menagerie (2013) have been equally well received.
6. He's an award winner
In 2013, Smith pulled in his first award as part of the ensemble cast of The Glass Menagerie, a play he starred in from 2013-2017 both on and off-Broadway. He subsequently picked up a slew of other titles for his performance in the production, including an Outstanding Featured Actor in a Play from the Outer Critics Circle Award and a Best Featured Actor in a Play from BroadwayWorld.com Award (both 2014).
7. He felt completely alone at school
During his cover-story interview with Attitude, Smith revealed how scared he'd felt as a child, and how the lack of support and representation for the LGBTQ community left him too fearful to come out. "I was terrified. At school, I really couldn't fit in. I wasn't a jock or a nerd," he said. "Forget about any LGBTQ union or groups. There was absolutely nothing. I was completely alone. I heard all the names: p–-, f–—." "I could never be who I was," he went on to say. "I was constantly having to check myself and make sure I wasn't looking at someone too long or making someone feel uncomfortable."
8. The stage was his refuge
While Smith's school years may not have been the happiest, there was always one place he could find solace: the stage. "In front of an audience, I disappeared and became someone else," he's revealed. "There were 600 students at school, all of whom probably thought I was an absolute idiot, a nerd. On stage, they paid attention to me. they saw that I had something. And that's when I didn't feel alone."
9. He came out to his family in 2011
Although Smith came out to his family in 2011, it's taken until now for him to feel comfortable about revealing his sexuality to the public. "I had to be very, very careful about telling people the truth about myself," Smith told Attitude. "It still reverberates. A lot of my work is about that. The things that move me as an actor are those echoes that come up."
10. He's not in it for the money
In the early part of most actors' careers, a part is a part — if it pays the bills, that's all that matters. As Smith has grown older (and more selective about the work he takes), he's become less concerned about the paycheck and more about the material. "I think the biggest take-away for me has been that after Sense8 I absolutely insist on working on material that has a spiritual purpose," he told TV Series Hub. "I can't make mercenary career decisions anymore, like working for money or because it would be "good" for my career. I'm more sensitive to what the experience of the project might be like, even if that means not being able to buy a house or whatever. I've learned that there are people out there in the industry who are making shows from a humanistic place, and those are the rooms I want to be in. If I get the slightest hint that I might be working for people who are in it for other reasons, I'm out of there so fast."
Tell us what's wrong with this post? How could we improve it? :)
Let us improve this post!