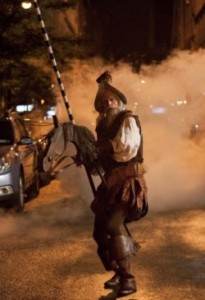 Bored to Death season 3 keeps digging deeper with its latest 'Forget the Herring,'another guest-star packed half-hour that sees Jonathan (Jason Schwartzman) investigating a new lead in the search for his father, while George (Ted Danson) and Ray (Zach Galifianakis) make desperate gambles of their relationship troubles. But with only one episode of the season remaining, is this the last we'll see of Bored to Death?
Lately it feels like we have two different kinds of Bored to Death episodes, those heavy with celebrity guest appearances, and those focusing on the interpersonal dynamic of its three leads. 'Forget the Herring'falls into the former, though that's not any kind of level at the show's humor, only a minor distracting in an otherwise engaging story.
Two weeks ago with 'I Keep Taking Baths Like Lady Macbeth'it was Sarah Silverman, Mary Steenburgen, and even Patton Oswalt, while 'Forget the Herring" throws at us in rapid succession Isla Fisher, Chris Elliot, and the always watchable Stacy Keach as a man with clues to Jonathan's sperm bank past who eventually turns out to be his father himself. But more on that later.
One of the things so consistently funny about Bored to Death is its complete willingness to ignore the normal society around it, and simply wander off in favor of exploring personal relationships. Much as Jonathan and Rose nearly abandon the search for their respective parents in favor of a ferris wheel (they later do), so to do Ray and George simply wander off, mid-performance of George's musical revue to right their unwritable wrongs, repairing the relationships with those they love. George proves successful in reuniting with his daughter and Bernard (though really, who wouldn't love Ted Danson serenading them in a Don Quixote costume) but Ray (along with the audience) gets their heart broken when his impromptu proposal, and the relationship itself goes down in flames.
We've seen the Ray and Leah broken up before, but something about Ray's dejected 'I'll miss you'lets the audience know this one will likely last, especially considering the uncertain future of a fourth season for Bored to Death. The real development of 'Forget the Herring'lies in its closing moments, as we learn that not only had 'Donald Stark'(Keach) lied about the sperm bank records having burned, but that he provided all the samples himself, making him both Jonathan's AND Rose's real father! I think we knew things felt just a little too perfect to have Jonathan fall for and bed a beautiful (and appropriately sized) woman with a keen detective's mind, but leave it to Bored to Death to have that woman turn out to be his half-sister.
Of course, the title 'Forget the Herring,'along with the episode's myriad of literary references (I myself only caught "Harrison Bergeron," but I'll assume the other aliases were literary characters as well) suggests that we all might be following a red herring in having Stacy Keach turn out to be Jonathan's real father, but we've got another first in a Bored to Death 'To Be Continued…'that should wrap things up conclusively next week.
Bored to Death wouldn't be Bored to Death without its inconsequential humor, and I particularly like George's infantilizing Ray, or the smaller jokes like Jonathan and Don's 'depends who's asking'conversation, or Rose's character assessment based on Jonathan's 'closed crotch'sitting.
It'd be shame of this turns out to be the last season of Bored to Death, because 'Forget the Herring,'while a little lighter on the laughs than usual, certainly moves the season's arc ahead in an intriguing way that should make for a good finale next week.
And Another Thing…
It took me a few minutes to remember that Jason Schwartzman and Isla Fisher aren't a couple in real life, as she's actually married to Sasha Baron Cohen, a man of a much less comparable size.
Seen, but not heard at the musical revue, we had the Tin Man, Teyve from Fiddler on the Roof, and of course, from everybody's favorite musical, Spider-Man!
'I want melty chocolate!'I want either a running tally, or a drinking game based around how often a character mentions something, that George than immediately claims he wants for himself.
What did YOU think?