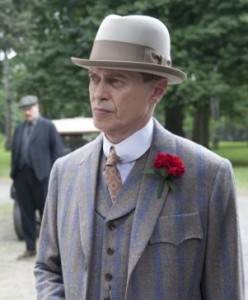 Boardwalk Empire season 2 keeps fighting toward its finale with last night's 'Battle of the Century,'which sees Nucky Thompson looking to make a deal with the IRA in Sinn Fein, as Jimmy struggles for personal and professional respect in his new role as the king, and Margaret faces a personal tragedy at home. "Battle of the Century" gives us an entertaining springboard into the final episodes, but we wouldn't really call it anything "of the century."
'Battle of the Century'proves to be a rather fitting title for last night's Boardwalk Empire, in more ways than one. The show's main conflicts begin erupting across the board, but like the offscreen Dempsey-Carpentier fight, we're not quite privy to the action just yet. Board knows (get it?) that Manny (William Forsythe) will be out for blood after Jimmy fails to have the Jewish butcher assassinated at the behest of Waxy Gordon, and Nucky's successful deal with the Irish should flood the streets of Atlantic City with more blood and booze than people know what to do with. We've nothing in the way of development on Van Alden or Nucky's case, but either way the opening salvos of 'Battle of the Century'have us primed for the final episodes of the season.
The crux of the trouble from 'Battle of the Century'lies with the men in power failing to keep hold of it, in and of itself a running theme for the show. Even in Ireland Nucky can't find a man to deal with to keep supplying Atlantic City with uninterrupted liquor, John McGarrigle (Ted Rooney) and the IRA looking to prevent further bloodshed, of course until McGarrigle's own power loses sway and his men coldly execute him in the street.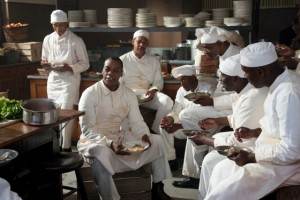 Jimmy isn't taking well to his new position as the 'King'of Atlantic city either, with Manny still nipping at his heels and even Richard starting to question him. And while Chalky barely shares any screentime this week, the previously seen Dunn Purnsley (Eric LaRay Harvey) steps up to challenge the employers of Atlantic City, with his bretheren behind him. I'm not terribly familiar with any of the historical accuracy behind these events, if any, but it certainly makes for a turbulent landscape for Nucky to return to, even with it being his idea in the first place.
Continuing along the lines of powerlessness toward a more personal level, Margaret Schroeder's young daughter Emily finds herself likely stricken with Polio, and losing the use of her legs to her mother's horror. While I like that Margaret continues to struggle with the dubious morality of her lifestyle, and undoubtedly finds Emily's affliction to be punishment from God for her mother's own choices, I couldn't help wondering if there might be more direct ways to tie Margaret into the storyline. So far this season we've seen her reconnecting with her family in 'Peg of Old,'and now hit with another personal blow, but the thread feels disconnected from Nucky himself, and the conflicts that have put Emily or Margaret in harm's way in the first place.
Dunn Purnsley makes an apt analysis of the situation, nothing that conflicts for the kitchen workers and Boardwalk Empire's second season alike remain simmering, but not quite ready to boil over. We're given a taste by the end of 'Battle of the Century,'Nucky and Sleater uncovering a telegram that alerts them to Emily's polio, or Esther Randolph (Julianne Nicholson) potentially finding a new informant in Eli's underling, but nothing quite erupts just yet. Like the fight behind the episode's namesake, things feel just off in the distance, their outcome not due to arrive just yet.
And Another Thing…
Wow, Nucky got to Ireland quickly. Guess it pays to be able to afford better travel than Margaret's first immigration.
Glad to see Mickey survived his fall! I know most aren't fans of the character, but he makes a great punching bag.
Obviously lots of people could draw parallels to Sons of Anarchy's third season trips to Ireland, but hey, it's a great well for stories!
Anyone else counting on Richard betraying Jimmy, even after the pretty girl in his lap?
What did YOU think?