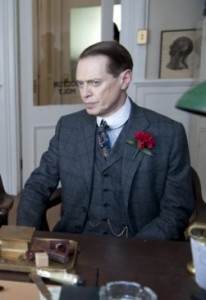 Boardwalk Empire season 2 keeps dripping toward its finale with Sunday's 'Georgia Peaches,'which sees Jimmy Darmody struggling to take control of his new empire as Nucky's Irish liquor floods the town, Chalky White's labor strike continues, and Margaret faces the harsh reality of Emily's polio. "Georgia Peaches" fires the opening salvos of what's sure to be an epic Boardwalk Empire finale, but one wonders if certain plot threads might have to wait until next year.
Boy, Sunday really was a night for heartbreaking TV, wasn't it? If it wasn't the shocking conclusion of The Walking Dead's mid-season finale 'Pretty Much Dead Already,'or the pathetically predictable twist of Dexter's 'Get Gellar,'and now poor Angela Darmody? Likely one of the most innocent of Boardwalk Empire's characters beside the children (ignoring her extramarital affairs, but let's just say sexuality in the early 20th century wasn't quite as smooth sailing), Angela Darmody deserved death the least. Then again, 'Georgia Peaches'makes a point of chaos beyond our control, and some people are just in the wrong place at the wrong time. Or at least married to the wrong people.
A few themes prevail Sunday's 'Georgia Peaches'that had me thinking about the larger explorations Boardwalk Empire visits on a week to week basis, and a few other series as well. Boardwalk Empire has always been about the struggle for control and power, here exemplified through poor Emily Schroder's permanent paralysis, and Jimmy's inability to resolve conflicts in his new position wearing Nucky's shoes. The shoes fit tighter than Jimmy anticipated, and it's fascinating to watch Michael Pitt revel in Jimmy's failure to appease Manny Horvitz (William Forsythe), resolve the black labor strike, or even distribute his newfound wealth of medicinal alcohol after Nucky's productive trip to Ireland in 'Battle of the Century.'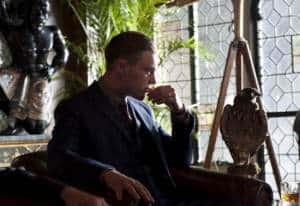 I found myself reminded of Breaking Bad's unstoppable geriatric hitman Mike, who told Walter White in words of wisdom that occasions arise wherein one wishes they'd taken a full measure, rather than a half-measure that creates unforeseen consequences. Jimmy Darmody seems only capable of half-measures, following up on neither attempt to kill Manny or Nucky, or unable to successfully end the strike with Chalky, all of which end up costing him dearly. Only two episodes remain in Boardwalk Empire's second season, and with Jimmy off in Princeton selling Remus'liquor, I'd imagine that the consequences of his half-measure may escape him for the time being, Gillian Darmody likely to discover Angela before her son. Either way, with both Manny, and even his partners nipping at his heels, Boardwalk Empire has poised Jimmy for one hell of a finish this season.
Manny Horowitz'last words to Angela before the brutal shooting also neatly tied together another running theme of 'Georgia Peaches,'that of the importance of health. Both Angela and Margaret Schroeder look to throw money at the root of their troubles, rather than realizing the value inherent in life itself. Poor Angela would have said anything in those last moments of life to stall Manny's hand, but it's Margaret who first seeks religious counsel, offers money to the doctors, and ultimately to God Himself, rather than simply be there for her crippled daughter. Even the Irish distillery owner from last week's 'Battle of the Century'imparted to Nucky that the IRA and financial troubles mattered little so long as he had his health and his family, values that inexorably escape Boardwalk Empire's leads.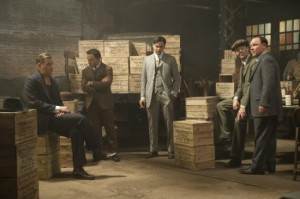 It's about that time of the season where everybody turns on one another, and we can scarcely see any Boardwalk Empire characters that aren't betraying one another in some form or another. Jimmy has Ceander Whitlock (Dominic Chianese), Manny Horvitz, his own (recovering) father The Commodore against him, as well as mounting tensions with Al Capone, Lucky Luciano, and even to some extent Richard Harrow. Eli's Deputy Raymond Halloran fingers him on the Hans Schroeder murder, and now Eli will likely testify against Nucky for his indictment. The board is set and the pieces are moving, and we should be in for one bloody finish this season.
Of course, other reviews have pointed out that many juggled threads have risen to the surface this season, so much so that we may not actually see a resolution to all of them, rather pouring into Boardwalk Empire's eventual (confirmed) third season. After all could two episodes really bring the scope of Nucky's trial, or the New York boys'increasing pressure to involve their gang in the heroin trade? Even Margaret offered a bit of foreshadowing by reminding Nucky to keep her son's fingers out of his nose, 'a vile habit,'which seems to suggest heroin might loom just a little larger than we yet have room for this season.
Either way, 'Georgia Peaches'has the opening shots fired eloquently, and thoughtfully, and we'll all be primed and ready for the inevitable showdowns to follow.
And Another Thing…
Apologies for the tardiness of this review, but I should point out that HBO declined to send advance copies of the final 2 episodes this season, so those likely won't go up until a day or so after either.
Admittedly, I'm a young guy, only some 200-years old, but I couldn't have been the only one shouting 'Fee-hee-hee-HEENAY'at the crates of Irish whiskey, nay, 'oats'being shipped into Atlantic City.
Once more, I'd be fascinated to learn some actual historical background to Chalky's strike, or what other specific incidents Boardwalk Empire finds itself drawing from.
Between Van Alden's new nanny and Hell on Wheels, I'm overdosing on Swedish accents. Actually, scratch that. I could laugh at those all day.
Because I'm also a terrible person, I should mention that I burst out laughing when Margaret slapped her child for faking polio. Just me?
There are some really great moments for both Nucky and Margaret this episode, Nucky in how he lies to comfort the boy, and Margaret in how she becomes increasingly self-involved about Emily's polio.
Did I miss something? Where did the title "Georgia Peaches" come from?
What did YOU think?
Tell us what's wrong with this post? How could we improve it? :)
Let us improve this post!