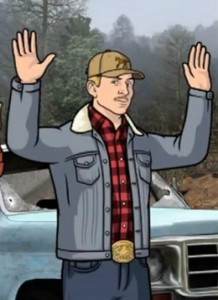 Archer drives along with its latest from season 3, or technically season 3.5 with "Bloody Ferlin," as Archer accompanies Ray Gillette to his hometown of West Virginia to rescue his brother Randy (Jack McBrayer) from a corrupt sheriff . It's a bit of a bumpy road getting there, but ultimately "Bloody Ferlin" makes for some good laughs.
I almost feel like a broken record saying this, but it's a real bummer that I wasn't around to cover last week's Archer 'Lo Scandalo.'That was exactly the kind of Archer episode that deviates from the standard formula, but with enough callbacks to make for a truly engaging story that brings the depths of the Archer family depravity to new heights. Tonight's clear nod to Justified with 'Bloody Ferlin'was by no means a weak episode in its own right, but still a little more predictable as Archer tends to be.
After three season it's starting to feel like there might be a grand total of four, or five potential plot formulas for a standard episode of Archer, tonight's being to explore the background of Ray Gillette (Adam Reed) as Ray returns home with Archer and Cheryl in tow to save his drug dealer (farmer) brother Randy. That said, Ray usually delivers some of the better one-liners and the trip to West Virginia ranks among the more intriguing deviations of Archer's usual aesthetic, so the story ends up feeling fresher than it actually is. It also doesn't hurt to have not one, but two strong guest stars voicing Ray's brother Randy Gillette and the Wesfield Sheriff EZ (30 Rock's perpetual bumpkin Jack McBrayer and The Walking Dead's Michael Rooker, respectively), even if I'm not generally a fan of Archer resorting to guest actors.*
(*) Burt Reynolds did make for a lot of laughs earlier in the season, as well I'm looking forward to Bryan Cranston toward the finale, but attention-grabbing guest stars are more or less moot now that Archer has officially been renewed for a fourth season anyway.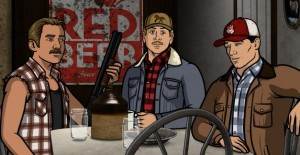 Of course, the entirety of Ray can't entirely be summed up in 22 minutes of 'Bloody Ferlin,'as we've seen a number of intriguing backstories attributed to the more mustachioed of ISIS agents, from bronze Olympic medalist to priest, and the backwoods rednecks of Gillette's upbringing felt like yet another mysterious layer of the effervescent Ray. Of course in order to get to the point of exploration, 'Bloody Ferlin'has to hand-wave away what's likely been one of the funniest running gags of the current season, dismissing Ray's paralysis in the opening minutes as a ruse he kept on with after everyone's presumptions coming out of the hospital. It doesn't quite gel with the attitude we've seen from Ray regarding his handicap earlier this season, feeling more like a rushed attempt to resume the status quo, but I suppose Archer's writers felt Ray's backstories were best explored unencumbered by a wheelchair.
Hell, I'm surprised he didn't end up paralyzed for real by the end of the episode. But wheelchair or no, Ray makes for one of the funnier characters, almost to the point that it make's Archer's drunken, gawking stumbles through the plot thread almost unnecessary. His trademarks though they may be, generally Archer works best when the agent has a little more to do than seduce some forbidden fruit, or make tired observational humor about lifestyles different from his own. And kudos to the Archer writers for subverting expectation by not bothering to expose Ray's sexuality to his brother, and turning the situation around with Ray's brother revealed as the real law-breaker of the conflict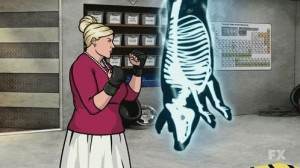 Back in New York, the remaining ISIS staff find themselves largely relegated to one running con, as the team attempts to cover up Archer and Ray's unlicensed mission to the south (and his working legs), only to end up dumping the news in Malory's lap anyway. It makes for a few funny bits about Pam participating in Krieger's apparent electrified bum fights, but mostly feels like characters spinning their wheels (no pun intended) for lack of any better story.
I liked the trip to 'Blood Ferlin,'and Ray was overdue for a story of his own, but it felt a bit like too many characters and too much story to shave down into anything solid. At the very least, it certainly made for one of Archer's more memorable deviations.
And Another Thing…
Fifth thoughts! I don't remember, did It ever go higher than that?
Among the other recurring jokes, I will never get tired of Archer's elaborate voicemail hoaxes.
'I'm coming out!"Ha, phrasing…'
As much as I loved Frisky Dingo, it'd been a while since I've watched any of it, which made it all the more shocking to see how drastically the animation quality of Adam Reed's work has improved.
Every Archer episode should end with the titular agent talking to an animal.
What did YOU think?
Tell us what's wrong with this post? How could we improve it? :)
Let us improve this post!