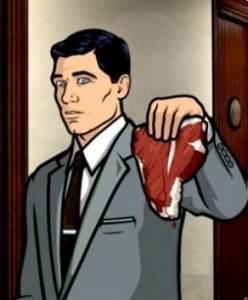 Archer rolls along with its latest from season 3, or technically season 3.5 with "The Limited," as Archer, Lana and the rest of ISIS board a train to Canada to escort a deadly terrorist back to the authorities. And if you don't love "The Limited," we might have to send a few ocelots your way.
I won't even bother waiting to tell you, or detailing my history with watching and enjoying Archer, 'The Limited'represents to date the most I've enjoyed the show this season, possibly of all three. Last week's Archer 'El Contador'wasn't a bad episode by any means, nor was the season 3 (or 3.5) premiere 'The Man From Jupiter,'but it's 'The Limited'that keeps all of the series'best aspects working in a perfect harmony, particularly by keeping its cast together for the adventure without any distracting celebrity guest stars.
Likely Archer's biggest strength lies in its callback humor, endlessly reprising and stringing along new riffs on its past gags, here most notably with Archer's absurd glee for Cheryl (Carol) Tunt's pet ocelot. Given H. Jon Benjamin's notoriously blithe voice, I always prefer giving his characters a bit of room to stretch, which make's Archer's repreated attempts to glorify and recover the cat while the rest of his ISIS teammates search for a deadly Canadian terrorist all the more entertaining to watch.
It also doesn't necessarily hurt that 'The Limited'deliberately calls back to first season episode 'Skytanic'in its premise of taking whatever excuse available to bring the entire ISIS team aboard one moving location, even the wheelchair-ed Ray. Last week's 'El Contador'still made use of the entire team, but didn't tie the A and B stories together all that well, making cuts here between Archer and Lana's bickering pursuit and Malory's indignance at her team feel far more organic.
As far as its actual story to separate from 'Skytanic,'Canada always makes for a fairly easy target* of humor, particularly from uber-macho American types like Sterling Archer, here as the ISIS team escorts a Nova Scotian terrorist back to Canada aboard a train. So even with Archer's regular quips and underestimations about our neighbors to the North, it was especially entertaining to turn the stereotypes on their head with the danger both Canadian Mounties and terrorist Kenny Bilko continually surprise Archer with.
(*) I've had a bit of trouble with finding proper identification for guest actors on TV lately, so while I couldn't identify each individually, it's worth nothing that a combination of Bilko and either the Royal Canadian Mounties, or the fake Mounties out to rescue Bilko are voiced by Mike Smith, John Paul Tremblay and Robb Wells, three members of Canadian mockumentary Trailer Park Boys.
'The Limited'is just the kind of madcap, joke-a-minute hilarity that highlights Archer at its best, with all pieces working together in unison. Nearly everyone gets a little bit of their own story to tell, whether its Malory's racist back-and-forths with train porter George (as Canadians keep perceiving and reprising their assumption of Americans as racist, sentiments echoed by Lana as well), Cyril's continued adjustment to the life of an ISIS agent, or Cheryl's manic desire to beat an existing train-record. Seemingly everyone has their own angle to play, or neurosis to obsess over, so when brought together with a compelling and action-packed plot (and an ocelot running through scenes for good measure), Archer makes even the hardest of cynics a giggling fanboy.
And Another Thing…
I love the other great recurring gag of Archer's movie/TV spy fantasies being deflated, as here he learns of the absurd difficulty and pointlessness of fighting atop a train.
Very strong scene transitions with the dialogue bridges, another Archer staple.
Not sure if this was introduced when the ocelot first appeared in the series, but Archer has taken to naming the creature 'Babou,'the same as Salvatore Dali's pet ocelot.
'Shut up, and come on, and shut up!'
Any episode that ends with Archer having a full-length conversation with an ocelot is fine by me.
What did YOU think?