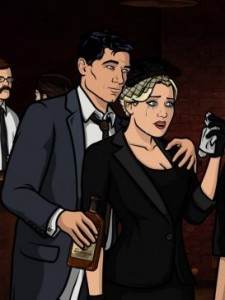 Archer drives along with its latest from season 3, or technically season 3.5 with "Crossing Over," as Archer finds his effectiveness as an ISIS agent compromised by his latest sexual encounter, and his potential father Nikolai Jakov defects to escape from the return of Bionic Barry. More of a plot-driven episode than anything else, "Crossing Over" offers up much more to think about than your typical Archer.
I haven't been keeping up with any of my FX screeners lately, and in a way I've almost enjoyed being able to walk into Archer fresh week after week. Last week's 'Bloody Ferlin'wasn't the best of episodes but still kept a unique enough vibe and setting to pleasantly surprise in its unfurling, and 'Crossing Over'seems to maintain that advantage as well. We know Bionic Barry had to return at some point, and his involvement would likely mean that the Russians would be back in play, all fairly important bits of Archer as far as canon goes. Though I won't go into too many details, it would seem that next week also reprises a few important bits of Archer mythology, so it's clear we're winding into a particularly unique endgame for season 3.
In a way, there almost isn't much to talk about in 'Crossing Over,'odd considering how much actually develops over the course of the episode. Archer finds himself addicted to her after a one-night stand with Pam, Bionic Barry takes over the KGB and inspires former head (and Archer's possible father) Nikolai Jakov to defect to ISIS protection, and even shares some bonding time with his surrogate son before Barry catches up to deliver his revenge. It's a lot to process, and a lot to consider moving forward, so much so that it almost overshadows any sense of comedy outside Archer's guilty romps with Pam.
In that way, 'Crossing Over'is more of a calculated episode of Archer than anything else, given how the paring of Pam with Archer feels like an inevitability that the writers get some good comic mileage out of, while sneaking in future bits of plot like Bionic Barry's 'master plan,'or whatever secrets Jakov relayed to the camera in his final off-screen moments. Still, Pam doesn't often get to play much more than a caricature , and it was nice to be able to see a bit more humanity in the way she lays down ground rules with Archer, or subtly justifies her own behavior while imparting advice to Malory over her relationship with Burt Reynolds (because that's apparently still happening.).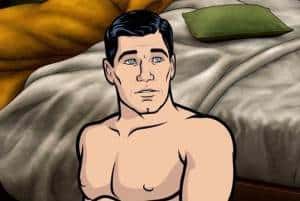 And even then, 'Crossing Over'finds the time to give Archer quite a bit to play, be it the initial disgust of his first night with Pam, his dumbfound reaction to coming around on the best sex of his life, and bonding time with Jakov that turns to stunned silence after his death. I doubt if Archer will ever really answer the question of Sterling's paternity, but that might not be such a bad thing so long as the series deftly wrings both comedy and real emotion out of the concept. If anything, the end of the episode was what brought me to the idea that there wasn't much to discuss, considering we clearly haven't seen the other half to this story. Previews of next week don't exactly seem like we've leapt to B from A, but I'll trust tonight's entry not to be so self-contained.
Vague though his motivations and plans might be, it was nice to get to spend a little time with Crazy Barry this week, given up to know we've mostly seen a work-in-progress, and spent relatively little time with the villain as a completed work. With only three episodes to go I'll presume Barry's endgame will factor into the season's end, and we might finally put to bed some of the uncapped drama from season 2.
Mostly a functional episode, but I'm always drawn toward episodes with more plot-progression.
And Another Thing…
How thoughtful, that we never learn the identity of the ISIS agent who died, with face covered by a portrait, and the portrait's face covered by a medal.
Incidentally, are Bloody Marys really an effective hangover cure? I've always wanted to try that…
Curious as to why the episode invoked that Malory was still dating Burt Reynolds (particularly when they didn't have any spare readings to use), but I like that the show will at least acknowledge its continuity.
Of course Carol couldn't really die, but I was surprised how dark things got in her choking scene.
I will never, ever get tired of the voicemail gags.
Any thoughts on what Jakov's final recording was about?
What did YOU think?