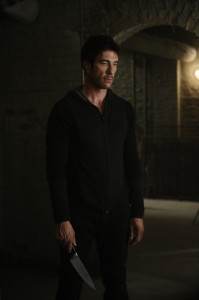 American Horror Story concludes its epic two-part scare-fest with its fifth episode "Halloween, Part 2" on FX tonight, and even if you missed out, we've got all the ghostly twists and turns to hold you over until the next terrifying episode! Of course, if you're too frightened to watch the action for yourself, read on for our American Horror Story recap of "Halloween, Part 2′!
Technically we open once more in flashback, returning to the scene of Larry Harvey (Denis O'Hare) banging on the door as young Violet (Taissa Farmiga) nervously calls her parents for help, and the mysterious Rubber Man looms over her shoulder. However, Larry leaves in frustration and Vi retreats to her room, where the appearance of Tate (Evan Peters) throwing rocks at the window saves her from the hand reaching out from under the bed! He offers her a black rose, and that the two finally go on their date.
As Ben and Vivien arrive home with Violet nowhere to be found, and Ben once again closes the door in a seemingly resurrected Hayden (Kate Mara)'s face. This time however, Violet calls her mother to let her know she's safely at the beach with Tate, and while Ben grabs a knife to confront Hayden, Vivien decides to take a bath and reserve the conversation of when Ben will move out of the house. Ben however, insists he's never giving up on the family.
Ben searching around the house, Larry emerges once more asking for his money, but Ben clocks him with a shovel and demands to know if Hayden and he are attempting to blackmail the family. Seems Ben doesn't quite realize Hayden's a ghost, and threatens to kill Larry if the two keep it up! Meanwhile, the alarm system security officer Luke (Morris Chestnut) arrives on the property, and Viv brushes the alarm off as an accidental trigger from Violet on her way out.
Speaking of Violet, she and Tate make out on the beach, with Violet ready to go all the way, but Tate says he can't. She tries to leave in embarrassment, but Tate convinces her to stay with a story of how he would come to the beach whenever high school got too tough. Almost as if on cue, four high school types in some fairly realistic wound makeup appear to harass the young couple, chiding Tate for even showing his face, though he doesn't recognize any of the group.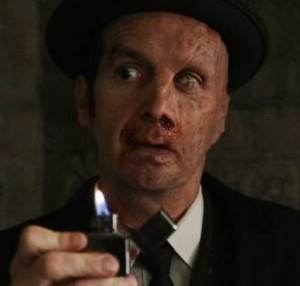 As Vivien draws a bath, Hayden returns her call and ignores Vivien's sensible attempt to convince the young girl Ben could never really run away with her, but Hayden insists Vivien should ask Ben about what happened in Boston. After hanging up, Viv turns around to find the message 'ASK HIM'written on the mirror!
Ben refuses to call the police, and instead grabs a knife and finds a rotting and dirtied Hayden in the basement, angry and confused about whats happening to her. Larry appears to knock out Ben with a shovel and apologize for what he did to Hayden, offering to burn down the house as she tells Vivien the truth about what happened.
Upstairs Vivien finds Chad Warwick (Zachary Quinto) smashing the Halloween decorations in the yard, still upset about their argument earlier, when Violet and Tate realize that the high school folk have followed them all the way back to the house! As Vivien searches the house for Hayden and fears their poor dog may have been blown up in the microwave, Violet talks to the teens outside who insist she should know what happened to them. Tate finally confronts his accusers, and decides to draw them off by running away! But before Violet makes it back into the house, Constance appears to take the youth home with her!
With the dog revealed to be alive, Hayden finally confronts Vivien in the bedroom to tell her of her own pregnancy. However, Hayden realizes that Vivien herself is pregnant, comes to the realization that Ben didn't need their child, and thus resolves to pick up a glass shard and cut the baby out of Vivien! Newly freed by the house's ghostly original matriarch, Ben arrives to break up the scuffle, revealing to Vivien that he had slept with Hayden more recently than he'd said. Luke the security guard shows up once more, ending the nightmarish conflict once and for all.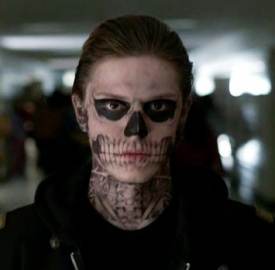 Constance and Violet share a cup of tea and lament Addie's death, before Constance reveals that Tate is actually her son, but Violet shouldn't tell him about Addie given the way he reacts to things and experiences emotions. Tate has his own problems at the beach, however, as the four teens catch up and demand an explanation for their deaths, revealing that years earlier Tate had actually gunned them down at school. Despite a few flashes, Tate still denies the event, and the four ghosts walk off bitterly into the night
The next morning all the house's ghosts return home, Moira and Chad sharing a quick conversation about how they'll never be able to leave this plane behind. Meanwhile, Hayden rides in the back of the security officer Luke's car, questioned why she would commit such evil acts, like putting tomatoes in the microwave to simulate the dog. Despondently believing Ben to be the love of her life, Hayden simply vanishes before Luke can lead her out of the car into jail.
Back at home, Ben packs and pauses to examine the fractured remains of the family portrait. He silently walks into the kitchen to kiss Vivien
How will they find a way to continue on to next week, let alone season 2? What did you think about the episode? Join us next week for an all-new episode of American Horror Story on FX!