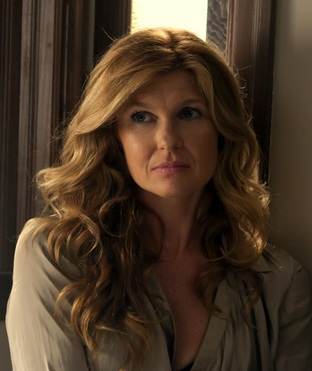 American Horror Story welcomes Zachary Quinto into the ghostly fold with its fourth episode "Halloween, Part 1" on FX tonight, and even if you missed out, we've got all the ghostly twists and turns to hold you over until the frightful conclusion next week! Of course, if you're too frightened to watch the action for yourself, read on for our American Horror Story recap of "Halloween, Part 1′!
In our most recent flashback to date, American Horror Story takes us back to good old 2010 to visit the troubled partnership between the house's last owners, Chad Warwick (Zachary Quinto) and Patrick (Teddy Sears). While Chad struggles to put things together for a perfect Halloween party to help sell the house, he lashes out at Patrick for having an affair with his personal trainer and not pulling his weight with the house.
Sometime later Chad attempts to tenderly apologize, until the rubber man appears before him in the dining room! Chad mistakes the rubber man for Patrick, until the man throws Chad across the room, dunks his head in the apple bob and snaps his neck, only for the real Patrick to walk in the room!
Back in the present, Ben (Dylan McDermott) and Vivien (Connie Britton) are still trying to unload the house, but their realtor insists the house needs an image makeover, and that they hire her young, gay 'fluffer'to decorate and attract more viewers to the house. Meanwhile over at Constance (Jessica Lange)'s, her boytoy of the week chats up young Addie by reading a history of Halloween before ducking out to pick up some groceries. Addie insists to her mother that she wants to spend Halloween as a 'pretty girl'rather than her usual Snoopy, which her mother coldly rebuffs. Jerk.
Good old Larry Harvey (Denis O'Hare) shows up on Ben's doorstep slyly demanding his $1000 for 'taking care of'Hayden (Kate Mara) last week, but Ben refuses the blackmail. He returns into the house to meet with Tate (Evan Peters), concerned that he hasn't shown up to any other therapists, while insisting he can't be his therapist. He thanks Tate for helping his family during the 'Home Invasion'crisis, but also demands Tate's (fishy) explanation for being in the house in the first place. At best, Ben agrees they can meet for coffee away from the house so as not to create tension with his daughter Violet (Taissa Farmiga).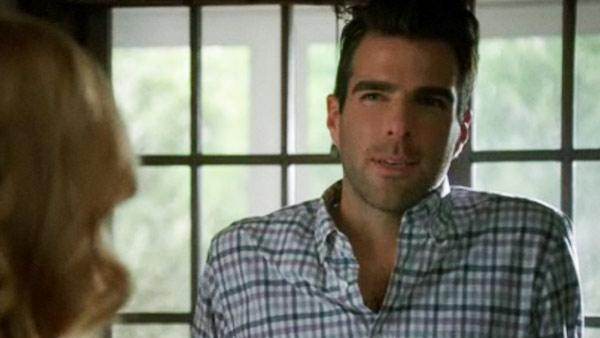 Ever the smart cookie, Vivien has a state-of-the-art home security system installed in the house, and grants the older Moira (Frances Conroy) a day off for Halloween to see her mother. But who's this outside? Why, it's the realtor's 'fluffer(s)'to help decorate the house, none other than the previously deceased Chad and his 'ball and chain'Patrick! The former owners, Vivien and Ben all carve pumpkins in the kitchen, Chad and Patrick tensely taking jabs at one another, before the former's observation that the gazebo should be torn down makes Ben accidentally cut his own hand! Patrick makes a pass at Ben over first-aid in the bathroom, while Chad comments to Vivien that checking cell phone bills is the way to catch cheaters.
Addie grabs Violet from under her bed upstairs, and asks about Tate before scampering off, while Violet heads to the basement to meet the boy in question. The Rubber Man confronts her, but what ho, it's Tate in disguise! The two share a kiss before settling into a game of Ouija to tell the story of Charles Montgomery, the doctor who first built the house. After he and his wife set up their abortion racket, a vengeful boyfriend declared 'an eye for an eye'and snatched their own baby from the house! When the remains arrive at their doorstep in jars (plural), Charles goes even madder and attempts to sew pieces of the child back together with animal parts, terrifying his wife. Back in the present, Violet rolls her eyes at Tate's story, and says the two should go on a real date rather than creepily hang in the basement.
The next day, Tate and Ben have their coffee meeting at a local playground, where Ben reveals that he too was a troubled child before working to obtain his doctorate. Elsewhere, Constance too comes around by bringing Addie a 'pretty girl'mask for her daughter to trick or treat in. As Ben and Vivien ready their costumes for the party later, she confronts him having checked the phone bills and seen the calls from Hayden. Gentle Ben plays it off as if she harasses him regardless of what he says and does, but suddenly the phone rings. As if her dead ears were burning, it's Hayden herself!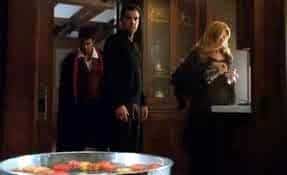 Downstairs, Chad and Patrick put the final touches on the decorations, until Chad flips out at the wrong type of bobbing apples, and the family's choice of costumes. Viv demands the 'fluffers'leave their house, but they refuse until Ben throws them out. And just as Vivien uses the tension to declare she doesn't believe Ben's story and wants him out, pregnancy pains force the two to leave Violet and head to the hospital!
Addie appears (using the front door!) to show Violet her creepy costume, but some actual pretty girls chew her out, and when Addie races across the street to join them, boom! A driver runs her over, and doesn't even slow down! After the paramedics, Constance finds her child in the street, and cryptically insists the only way to save her is dragging the body onto the lawn of the mysterious house, but nothing happens! What could it mean?
Moira visits her mother at another hospital, and apologizes for not being there, believing her mother's condition to be her own fault. But before you can say 'survivor's guilt,'Moira pulls the breathing tube on her mother, whose ghost promptly appears behind her beckoning her daughter to come with her! Whatever's bonding Moira to this life and the house has a strong hold on her, as she insists she can't join her mother.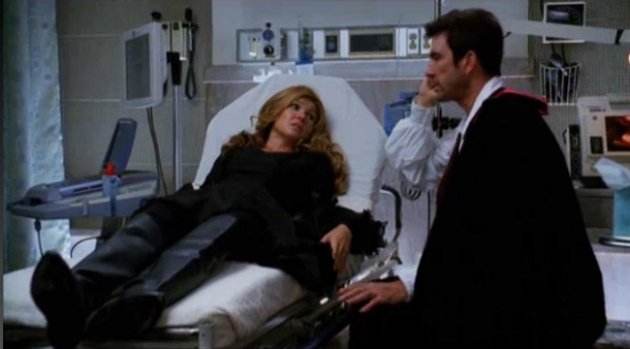 At the hospital, Vivien's bizarre pregnancy pains have subsided, but you know something's wrong when the doctor stares deep into the ultrasound and straight up faints! Meanwhile, Violet's reading is interrupted when Larry Harvey comes a-calling once more for his $1000, but with no one else home Violet refuses to answer the door and alerts her parents, who come racing home. Violet is nowhere to be found upon their return, but when another knock at the door arrives, Ben answers to find none other than a dirtied and bloody Hayden staring him in the face! Cliffhanger!
Can you believe they're going to make us wait a whole week for "Halloween, Part 2"? What did you think about the episode? Join us next week for an all-new episode of American Horror Story on FX!