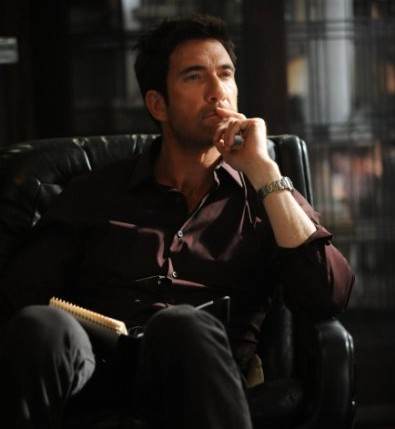 American Horror Story premiered its second episode 'Home Invasion'on FX tonight, and if you're anything like us you watched with the lights off and a full bucket of popcorn for all the creepy scares! And if you're too frightened to watch the action, read on for our American Horror Story recap of 'Home Invasion!'
Way back in 1968, two young nurses Maria and Gladys experience an American Horror Story of their own when they find themselves conned by an apparently injured man, seeing blood on his forehead they allow him inside the house. Once his ruse is uncovered, the man quickly knocks young Maria out, and drags her more portly roommate upstairs. Once Maria comes to, the man forces her to put on a traditional nurses'outfit, mocks her beliefs in Jesus, hogties her, and ultimately stabs her repeatedly through the back! Now that's just being bad company.
Back in good old 2011, Ben Harmon (Dylan McDermott) continues his sessions with the ever-creepy Tate Langdon (Evan Peters), who makes suggestive comments about young Violet Harmon (Taissa Farmiga) and winds up ending the session prematurely. Poor Tate just wanted his masturbation to end the horrible visions he experiences! But that's not all! Ben gets a call from his former student/mistress Hayden (Kate Mara) back in Boston, who drops the bombshell that she's pregnant!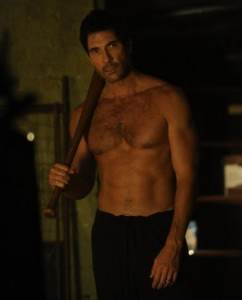 Later that night, Tate makes good on his desires toward Violet, watching her sleep as suddenly the house's security alarms activate, and both Ben and Vivien (Connie Britton) inspect the house for intruders. No one catches on to Tate, but Ben does breathe a sigh of relief when the apparent source of the alarm appears to be Addy (Jamie Brewer), having once again wandered into their home. Despite the apparent threat subsiding, Vivien confides to Ben that she believes something to be wrong with the child they conceived last week.
The next day, Ben has a session with an unsettling young Bianca (Mageina Tovah) with dreams of being halved in an elevator, though she seems far more interested in the house's reputation as a 'murder house,'and even lingers after the session to mysteriously tour the premises. Ben goes for a jog to put the thoughts of Tate, Bianca, and his pregnant mistress Hayden out of his mind, but a quick chat with disfigured former owner Larry Harvey (Denis O'Hare) convinces him to lie to Vivien, and create an excuse to return to Boston and see Hayden (Kate Mara).
Constance (Jessica Lange) drops by with some fresh cupcakes for Violet (baked with yummy ipecac and spit), literally sniffs out Vivien's pregnancy and assures her of the baby's health, drifting off into thoughts of her own past children, who may have died of 'other maladies'than Addy's Down Syndrome. Ben heads to Boston to meet with former student Hayden, who claims only to need him until the abortion. Vivien tries to bond with Violent while Ben's across the country, but faces a cold reception. But who needs mother-daughter sharing, when bloodied young Fiona (Azura Skye) arrives at their front door with a very familiar-sounding excuse to enter the house?
Too late! A young man (Michael Graziadei), Fiona, and Ben's patient Bianca have already sprung their home invasion and swiped all the cell phones, apparently intent on re-creating 'our Franklin's'1968 murder, note for note. After choosing Violet to be 'Gladys'and Vivien to be 'Maria,'Violet briefly breaks free, and Tate appears telling her to lead the killers into the basement so he can take care of them. Even Addy appears in the house and runs to Constance to fetch help, but interrupting her mother's 'business meeting'with a younger boytoy gets her locked in the 'Bad Girl Closet!'Gasp, mirrors!
Taken upstairs to re-enact the bathtub murder, Violet manages to convince Fiona that the authentic tub from that night lies in the basement, while Bianca chows down on the ipecac-laced cupcake. As Bianca begins puking her guts out, Tate appears and swings an axe into her mid-section! Take that, elevator bisection nightmares! Meanwhile, Violet leads Fiona into the basement, where Tate already lies in wait with a full bathtub, and Gladys'ghost! Upstairs, Vivien breaks free of her tormentor Travis and flees with Violet, while he stumbles downstairs into the basement to be taken care of by ghostly Maria and Gladys! In the aftermath, Tate, Constance and Moira gather to observe the three bodies, and creepily resolve to dispose of them so Ben will continue treating Tate…
"I have an idea. Has anyone seen Breaking Bad?" -FX
The next day, the police take statements from Vivien and Ben, who's returned from Hayden's abortion. Violet can't answer the question of why Tate was in the house, but gives her father the cold shoulder for not being present in their hour of distress. And while Vivien finally receives her daughter's respect, she defiantly asserts to Ben they must sell the house…
Scared yet? Join us next week for an all-new episode of American Horror Story on FX!