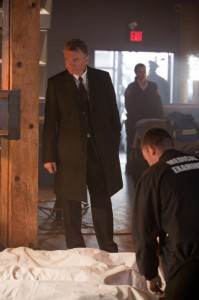 Alcatraz continues its first season with tonight's seventh episode 'Johnny McKee,'as Detective Rebecca Madsen (Sarah Jones), Dr. Diego Soto (Jorge Garcia) and Emerson Hauser (Sam Neill) race against time to find a former Alcatraz prisoner (Adam Rothenberg) known for poisoning his victims with deadly chemical weapons.
If you didn't get a chance to check it out for yourself, read on for our Alcatraz recap of "Johnny McKee'!
Hauser and Dr. Beauregard overlook the comatose Lucy (Parminder Nagra) in her new accommodations at 'New Alcatraz,'where Beauregard remarks that the treatment methods aren't improving her condition. He suggests that as long as Lucy remains dreaming, Hauser should read to her as a means of drawing her mind back to reality. Hauser scoffs, and says to call him when he has a better idea.
At a hopping nightclub, a rude patron demands of the bartender Johnny McKee (Adam Rothenberg) that he mix cocktails for he and his friends, as Johnny flashes back to his time in Alcatraz when an intimidating inmate Mickey Cullen asked him to kill another prisoner who'd been selling weapons. The memory spurs present Johnny to mix some suspicious looking ingredients into the drinks, which the party takes and immediately begins dying off as Johnny makes a quiet exit.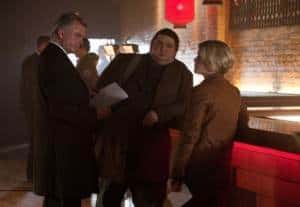 While Diego abuses the internet connection to play video games, the Alcatraz computer alerts him to YouTube video of the mysterious club deaths, which it then recognizes as featuring Johnny McKee. Diego alerts a very-much awake Rebecca Madsen, and they meet Hauser at the scene the next day. Johnny's previous M.O. was the murder of 70 people at his high school reunion via cyanide sprinklers. They get the address he listed to the club's manager as Johnny lines up a new job, and the address turns out to be abandoned. That is until Diego figures out that the address was actually his cell in Alcatraz, which puts him right next door to previous inmate Jack Sylvane (Jeffrey Pierce)!
Madsen presses on Hauser her need to speak with Sylvane, which he reluctantly agrees to as she and Diego search through McKee's possessions, finding most interesting a photo of a disfigured woman identified as 'Ginny.'McKee meanwhile sets up his next attack by dumping chemicals in a spa's pool filter, while flashing back to his 1960 time in the Alcatraz library buying a shank from his intended target.
Madsen sits down to a supervised interrogation of Jack Sylvane, who insists he has no idea how he arrived in 2012. Madsen offers him a recovered picture of his lost wife, and he remembers a conversation he held with McKee about a girl named Ginny Winters who took him on a date to a malt shop, and led him up to the roof for a romantic moment, but McKee denies knowing what happened after that. Sylvane also remarks about McKee's obsession with Jules Verne, and mentions a few choice mysteries about Tommy Madsen always being in the infirmary, or a 'hole beneath the hole'within Alcatraz, before being led away. Rebecca Madsen realizes that McKee often made poisons within his 'killing jar,'from white margin nightshade that grew around the prison.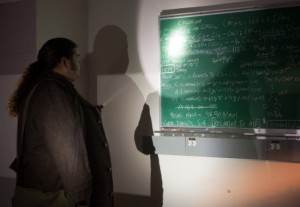 Diego again nervously fumbles his way around Madsen's medical examiner friend Nicky, while Madsen and Hauser investigate the killings at the pool, putting together that nightshade couldn't have been responsible. The present Johnny mixes chemicals for his next attack, while flashing back to Dr. Sangupta (remember? That's Lucy!) trying to get him to open up about his past, as Warden James supervises. The team manages to get McKee's real address from an herbal shop, but find his lab in an abandoned high school empty. They do however uncover a formula for his next gas attack, to be completed in a subway as outlined by the writings of Jules Verne! Across town, Johnny bluffs his way into a subway control car, and poisons the real conductor.
In 1960, the inmates settle in for a screening of the film 'Born Reckless,'while Johnny's target sits in front of him and Mickey Cullen sits to the left. Present Johnny stops the train, and begins hooking up his poison canister, while 1960 Johnny hesitates in killing his target, and after the movie Mickey Cullen's lifeless body stays seated, Johnny having killed his 'bullying'contractor instead.
The Alcatraz team then uncovers the train Johnny is set to attack, and race to the scene, arriving just in time to find subway patrons banging on the windows of the car to flee the gas. Hauser breaks open the windows with a nearby axe, and subway personnel successfully liberate the passengers as Johnny flees the scene. Madsen and Hauser manage to catch up to him, and in the ensuing scuffle McKee electrocutes himself on the third rail, but not fatally.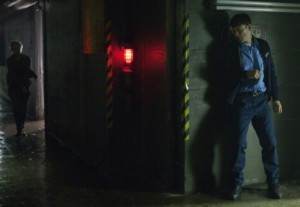 While Diego and Rebecca muse on the train incident being covered up, they figure out that the girl from Johnny's photograph is Virginia Williams, and her disfigurement was the result of a chemical explosion that threw acid in her face, likely the work of McKee himself. Back in the past, Dr. Sangupta continues her interrogation of McKee, who through prodding reveals that his date with Ginny really ended with the lights coming on, and the entire football team humiliating him with a prank date. They threw firecrackers at his naked body, one of which mutilated his, ahem, 'Little McKee,'and he later took his revenge by burning off Ginny's face and killing his classmates at the reunion. With the truth out, Dr Sangupta agrees to help him.
In the present 'New Alcatraz,'Jack Sylvane requests a word with Hauser, giving back the photo of his wife so as not to remind him of the life that no longer exists. Hauser reminds him that 50 missing years or no, Jack will serve out his prison sentence, despite his pleas of having changed or no longer dreaming. Hauser reluctantly retreats into Lucy's room, and finally agrees to read aloud to his comatose partner.
Did you get your fill of time-traveling action? What did you think about the episode? Join us next week for an all-new episode recap of Alcatraz on FOX!