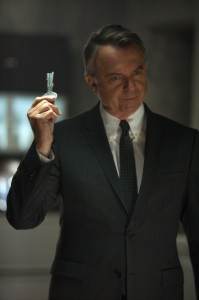 Alcatraz continues its first season with tonight's fourth episode 'Cal Sweeney,'as Detective Rebecca Madsen (Sarah Jones), Dr. Diego Soto (Jorge Garcia) and Emerson Hauser (Sam Neill) race against time to stop another former Alcatraz inmate known for robbing banks of their safety deposit boxes, rather than vaults.
If you didn't get a chance to check it out for yourself, read on for our Alcatraz recap of "Cal Sweeney'!
In present-day San Francisco, a sharply-dressed, if anachronistic man walks into a bank, and inquires about visiting his safety deposit box. Flirtatiously, the teller leads him to the vault, where the two get down to dirty business, before the man pulls out a syringe and drugs the woman unconscious. He opens his briefcase and assembles a captive bolt pistol, which he uses to unlock a number of safety deposit boxes, dumping their contents into his case. He eyes a particular necklace when another man comes in, finds the teller unconscious, and our villain is forced to put an end to him No Country For Old Men-style.
Back in Alcatraz 1960, the same man, Cal Sweeney (Eric Johnson) shows new recruit Harlan (Steven Grayhm) the business of smuggling contraband through the laundry, marking up another inmate triple the rate for being unable to pay that week. He mentors Harlan, pointing out that any weakness shown in his enterprise will be seen by those looking to take over his operation. Just then, a guard drops by to let Cal know that Deputy Warden Tiller (Jason Butler Harner) has tossed his cell. Sweeney returns to his cell to find an important item missing, and notes how he needs to talk to Tiller.
In the present, Dr. Diego Soto (Jorge Garcia) and detective Rebecca Madsen (Sarah Jones) discuss over Japanese food the Gotham City-based criminology model that got Diego barred from being a professor, when Hauser (Sam Neill) calls them into the bank scene. Diego immediately recognizes the handiwork as Cal Sweeney's, as Rebecca interviews the teller to learn that Cal had romanced her over time to get in that position, and that they could likely catch Cal when he attempts to pawn any of the items he stole. However, at that moment Sweeney arrives at the home of the man whose necklace he stole, claiming to be an insurance agent taking stock of the stolen items. The man grows suspicious when Cal demands to know the story of how he met the wife the necklace belonged to, and Cal captive-bolds his hand to keep him from calling the police
Back in 1960, Cal confronts Deputy Warden Tiller in the prison barber shop, where Tiller denies knowledge of Cal's small metal box but demands a piece of his operation. Sweeney refuses at first, but Tiller reminds him that he best comply lest he be 'nicked,'and later Sweeney relays the situation to Harlan. Harlan suggests he confront Tiller privately, and pulling steward duty at Tiller's upcoming birthday celebration would provide the opportunity. Meanwhile back in the present, Diego and Rebecca arrive at the necklace man's wife and home to find him dead, while Cal walks into another bank and eyes his next teller.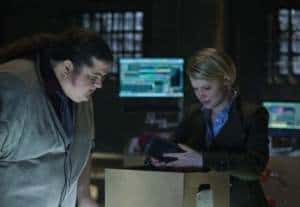 In 1960, the guests slowly arrive for Tiller's birthday celebration including Warden James (Jonny Coyne), Tiller himself, his mentally disabled sister, Dr. Beauregard, and our favorite time-displaced Dr. Lucy 'Sangupta" (Parminder Nagra). She and Beauregard banter about her research in removing traumatic memories as rehabilitation for convicts, before we flash back to the present observing Diego and Rebecca mining through Cal's old possessions, solely a burn tin box with nothing inside. Hauser arrives, and the group notes Cal's change in behavior from his past crimes, but realizing that the bank robberies have in common Cal's romancing of a middle-aged teller upon whom he bestows flowers. They track the flower shop and learn Cal's likely next target.
Cal pulls the same make-out routine on his next teller, but she manages to evade his syringe and sound the alarm before the prisoner knocks her out. He empties the safety deposit boxes once more, but finds his exit blocked by security guards and the arrival of the police. He fires his gun wildly, and creates a hostage situation. Back in 1960, Warden James leads a toast and bestows the birthday gift of a fine pen upon Tiller, when Harlan spills coffee and creates an opportunity for Cal to confront Tiller in the bathroom. Once there, Tiller demands 50% of Cal's smuggling operation, but insists he has no knowledge of the tin box. Cal turns violent in demanding his stolen property, but Tiller stabs Cal with the pen and threatens 60 days in the hole if Cal speaks of the incident.
In the present, Hauser arrives on the hostage scene noting that Cal has no demands and offering to distract the police while Rebecca sneaks in to lead Cal out discretely. Rebecca enters through the next building's vents, but attracts Cal's attention. She confesses to being unarmed, but assures him she knows who he is, and will lead him out rather than risk being caught by present-day authorities. While Hauser continues to distract, gunshots inside draw a SWAT team, and in the confusion of gas canisters and hostage evacuation, Rebecca manages to sneak Cal out wearing a SWAT uniform, and the two drive away in a police car, Hauser riding in Diego's mustang in pursuit.
Hauser chides Diego's driving, and when Cal recognizes their following Rebecca calls their pursuit off by turning on their car's siren. Meanwhile back in 1960 Cal awaits being taken into solitary, when a next-cell Harlan reveals that he was the one to take Cal's burnt tin box, the only remnant of his childhood life and family, and returns the box before announcing his plans to take over Cal's operation during his solitary. Cal destroys the box, as Tiller arrives to take him to his confinement.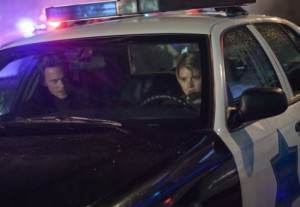 While Rebecca continues driving Cal, she questions the significance of the velvet bag he retrieved from the bank, which he cryptically admits he doesn't know the contents of. He menacingly instructs her to pull over, when she notices his lack of seat belt and crashes the car to gain the upper hand. Later, Rebecca and Diego revel in their fourth victory, though Hauser denies them any explanation of the key, taking it to his lab of scientists for research. They don't uncover much beyond the keys having been carved by lasers, technology unavailable during the 1960s.
Back in time, Warden James leads Harlan to the downstairs chamber of a 'dissident'who requests a meeting, using the mysterious keys to open a strange door that Harlan seems fearful of the contents of, but the warden leads him inside noting that 'your future just got brighter.'
Did you get your fill of time-traveling action? What did you think about the episode? Join us next week for an all-new episode recap of Alcatraz on FOX!