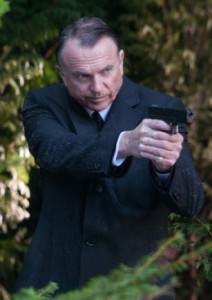 Alcatraz continues its first season with tonight's third episode 'Kit Nelson,'as Detective Rebecca Madsen (Sarah Jones), Dr. Diego Soto (Jorge Garcia) and Emerson Hauser (Sam Neill) race against time to stop another former Alcatraz inmate known for kidnapping children, and returning them to their homes after their murder.
If you didn't get a chance to check it out for yourself, read on for our Alcatraz recap of "Kit Nelsen'!
In present day Walnut Creek, CA, a man casually opens the gate and enters (with keys) a home while clutching a large white chrysanthemum. He heads up to the bedroom of several young sleeping boys, casually observing them before clamping down over the elder boy's mouth, and assuring him that if the boy screams, he'll kill his brother. Flashing back to Alcatraz 1960, we see the same man chastised as a 'child-killer'out in the yard, and savagely beaten by the other inmates while the guards look on.
Back in the present, Dr. Diego Soto (Jorge Reyes) illustrates a comic book based on his experiences with the Alcatraz task force, when he hears over his police scanner news of a child's kidnapping with a flower found at the scene. He panics, finds an old clipping from his files, and rushes out of his shop. Meanwhile at the hospital, Emerson Hauser (Sam Neill) and Rebecca Madsen observe the still-comatose Lucy Banjeree (Parminder Nagra), when Diego rushes up to deliver the news. He believes the recent kidnapping to be the work of Alcatraz inmate Kit Nelson, who kidnaps boys on a Friday, and returns them to their homes dead 48 hours later.
Noting along the way that Kit Nelson had a brother who died of scarlet fever the same age as his victims, they arrive at the boy's house to question the mother, who upon seeing a photo of Kit Nelson recognizes him as a man from the local hardware store who stopped by to do some work. When the youngest boy Liam sees the photo, he reveals that he indeed saw the man in the bedroom the night before, but was too scared to do anything about it.
At a local lake, Kit takes Dylan to rent out a fishing boat, while back in 1960 Kit recovers from the aftermath of his beating. Dr. Beauregard doesn't take too kindly to Kit's recovery given the inmate's history, when the man behind the divider we saw last week laughs and offers his own insight into why the other inmates attacked Kit. After drawing blood from the man, the doctors draw the divider revealing Tommy Madsen, Rebecca's grandfather.
Back in the present, Diego and Rebecca question the hardware store owner, who reveals that someone stole the real 'Warren's'uniform and some fishing supplies, and that that the only local area for fishing is the LaFayette Recreation Area. Meanwhile, peaceful fishing between Kit and Dylan turns dark when Kit instructs his captive into the water, and soon follows. He forces Dylan to hold him under as long as he can, and then afterward reveals with a sinister tone that it's 'your turn.'
Having missed them at the lake (from where they've since moved on to the movies), Diego reasons that Kit might be taking Dylan to do things the young boy likes, but seems troubled by the thought. Back in 1960 the Warden brings a wheelchair for Kit and claims responsibility for his beating, informing him that he'll protect him by isolating him from other prisoners. Kit also received a letter from his father, and despite the inmate's hesitation the Warden would like the pair to visit with one another.
In the present, Hauser grows increasingly despondent over Lucy's absence and cancels the Amber Alert over Dylan. Meanwhile, Diego and Rebecca interview Dylan's mother once more, and upon learning that Dylan likes none of the things Kit has taken him to do, Diego rushes off babbling about cherry pie. He reaches the front yard just in time to see the police leaving due to the cancelled Amber Alert, which Hauser arrives to explain is for the greater good, that they can catch Kit when he brings Dylan back (dead), the boy's death preferable to releasing images of the 63 Alcatraz inmates to the media. Diego storms off, and Rebecca reminds Hauser that they all need each other's expertise to function, and must trust one another.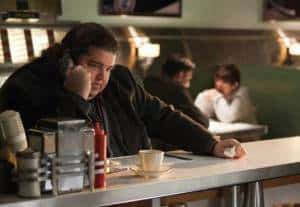 After checking out multiple nearby diners for their cherry pie, Diego manages to find himself in exactly the right spot where Kit has taken Dylan for a slice. He calls Rebecca to casually relay the situation, while Kit flashes back to 1960. In Alcatraz, he finds himself face to glass with his estranged father, who believes that Kit killed his own brother, and upon discovering her son's horrid actions their mother protected the boy by hiding the evidence and blaming scarlet fever. He believes that Kit hated his brother for loving life, lakes, miniature golf and cherry pie, but after his brother's death their mother only ignored him further. Kit refuses to admit his guilt, but the father leaves happy knowing his evil son will die in prison
Back in 2012, Diego attempts to stall Kit and Dylan from leaving, before Rebecca finally arrives and a standoff ensues. Kit manages to gain the upper hand and has Rebecca cuff herself with Diego to a dumpster, but after Kit speeds off Rebecca uses her backup weapon to free herself from the cuffs. Defeated, Diego dejectedly believes the boy's fate to be his own fault. Their luck quickly turns around however, as Diego later goes through Kit's possessions and realizes he had unusually expensive cigarettes in his Alcatraz cell. Diego traces the influx of cash to some back pay that Kit received from his job at a construction company, which for a time made bomb shelters, one of which was located in Walnut Creek not far from Dylan's home!
Kit flashes back to 1960 once more, where the Warden has him thrown into a pitch-black solitary cell for a quiet conversation. Lighting one match for every moment of questioning, the warden demands to know the truth about Kit killing his brother. Through coercion and intimidation, the warden finally gets Kit to cop to murdering his sibling, unintentionally at first, but giving in to the thrill of it at last. He put the chrysanthemum on his mother's bed, as they were both hers and his brother's favorite. Back in the present, Dylan manages to distract Kit long enough to slip off his shoe and hurl it at the bomb shelter's only light, climbing up the ladder and escaping into the forest!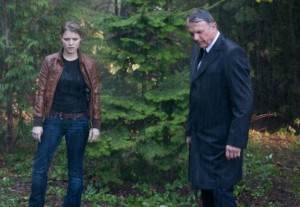 Kit chases Dylan through the forest with Diego and Rebecca in hot pursuit, and Rebecca manages to corner the pair once more. Despite his lack of a weapon Kit believes that Rebecca won't shoot, when all of a sudden a shot from Hauser hits Kit through the head. Later, Hauser requests a moment with Diego, intimating that he knows what happened to him at the age of 11, and despite a state of arrested development he needs Diego to be an adult rather than an 11-year old. Diego agrees, and Rebecca reminds him that he doesn't have to tell her what really happened to him, as it's his own origin story.
Diego takes it on himself to visit the now-safe Dylan and beef up his comic collection, when the boy confesses he's still afraid. Diego confesses that he himself was kidnapped at that age, but managed to get away. He assures the boy that 'once you know you can do that, it sort of give you a superpower, like [comic superheroes], but real.'
Later, Hauser carries the bodybag of Kit into "New Alcatraz," bringing it to a still-living and un-aged Dr. Beauregard. Hauser intimates that he may need the physician's help with 'a friend of mine,'and the doctor reports ready. Hauser takes off, as Dr. Beauregard lights a cigarette, and gleefully switches on the record player in his office.
Did you get your fill of time-traveling action? What did you think about the episode? Join us next week for an all-new episode recap of Alcatraz on FOX!