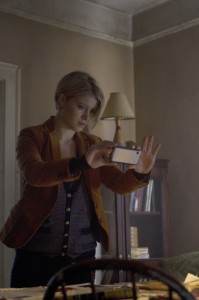 Alcatraz continues its first season with tonight's tenth episode 'Sonny Burnett,'as Detective Rebecca Madsen (Sarah Jones), Dr. Diego Soto (Jorge Garcia) and Emerson Hauser (Sam Neill) race against time to find a former inmate (Sons of Anarchy's Theo Rossi) whose kidnapping crimes have become increasingly violent since re-surfacing in 2012.
If you didn't get a chance to check it out for yourself, read on for our Alcatraz recap of "Sonny Burnett'!
On a rainy San Francisco night Hauser visits with Ray Archer in his bar, where Archer demands that Rebecca be kept out of the Alcatraz cases from now on. Hauser however sees through the demand, realizing that Archer has encountered Tommy Madsen recently. Meanwhile, Rebecca continues dreaming of the death of her partner, while Tommy Madsen watches her sleep from inside her apartment! By the time she wakes however, she's gone.
Meanwhile driving on a deserted road, two businessmen revel in their success while one tries to light up, and the other swerves to avoid a man in the road. Though at first it seems a mirage, a man named Sonny Burnett appears and kills the passenger, kidnapping the driver Mr. Pierce. Back in 1960 Deputy Warden Tiller first introduces Burnett into the general population of the prison, where he finds Hicks, a powerful prison figure and asks for protection. Burnett was famous for not having a $100,000 kidnapping score recovered by the police, which he offers to Hicks in exchange for his safety.
In the present the Alcatraz team looks over the crime scene, noting that even in his past kidnappings, Sonny never committed any acts of violence. They talk to Helen Pierce, wealthy wife to the kidnapped man, and realize that she was once herself kidnapped as a girl…by Sonny Burnett himself.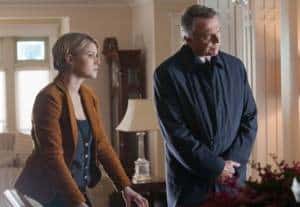 In 'New Alcatraz,'Hauser recovers from the gunshot wound he sustained in 'The Ames Brothers,'while Dr. Beauregard informs him that colloidal silver in the blood of the recovered Alcatraz inmates could account for their healing and longevity. He also theorizes that a transfusion of it could do well to help Lucy (Parminder Nagra) recover, though none of the current inmates share her blood type. Back at Helen Pierce's Rebecca realizes that the woman must be hiding something, and eventually Ray shows up at Rebecca's to inform her he's being watched. She suspects some personal motivation for why Tommy Madsen killed her partner that day, and that Ray too knows more than he'll let on.
Back in 1960, Hicks informs Sonny that while the package was where he said, it contained no money, and thus they collect on the bet Sonny made with his life by stabbing him in the courtyard. He awakens in the infirmary having briefly died, and Deputy Warden Tiller chastises him for not deciding whether he wants to be predator or prey in the Alcatraz hierarchy.
In the present, a ransom call for Mr. Pierce finally goes through, instructing Rebecca to drop $100,000 at a local stable, only to find Mr. Pierce's severed head at the drop location, while Sonny kills the police around her home and confronts a terrified Helen. He insists that Helen betrayed him and that though he loves her, he wants to make her know what it is to have everything taken away from her, as he believes she did to him. Once the group discover Mr. Pierce's head, he smiles, and leaves Helen to her terrified misery. Meanwhile, the group figures out that he only wants to make Helen suffer, and thus anyone close to her is in danger, particularly her daughter. After being brought up to speed, Helen reveals that Sonny saw her as a partner of sorts, and that she found and took Sonny's money after her escape, and was thus the reason he nearly died in Alcatraz.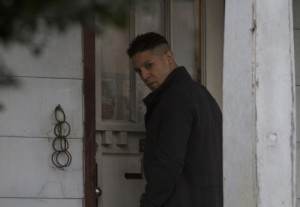 While Doc and Rebecca find an address from matching tire tracks, Sonny flashes back to days in Alcatraz of vicious physical training, which he uses to assault one of Hicks'men in the yard, and hopefully improve his reputation. Rebecca infiltrates Sonny's hideout and finds the full body of Mr. Pierce, the saw he used, as well as information on Helen's daughter's incoming flight. When the young girl arrives at the airport, Sonny poses as a limo driver to pick her up. He next creepily picks up some supplies at a local hardware store, before flashing back to Deputy Warden Tiller bringing him a hearty meal for his training, and reminding him that his little show of beating up Vicks'crony won't be enough to protect himself.
A little creative detective work and investigation leads the Alcatraz team to realize that Sonny intends to bury Helen's daughter alive, likely in the same location he left the money. They manage to track down Sonny's stolen towncar via GPS, and a high-speed chase away from the buried girl erupts, while Sonny flashes back to having violently attacked Hicks in the Alcatraz yard, even gouging the man's eyes out. Warden James observes that Sonny has undergone quite a transformation, but reminds Deputy Warden Tiller to remember his own place in the pecking order as a member of James'wolf pack.
Back in the present the police manage to stop Sonny's car and take the man alive, and the combined efforts of police and firemen successfully recover the girl from her burial. Later, Rebecca assures Helen that Sonny will be out of her life forever, before musing with Doc that they too will have to answer for the things they've done in the Alcatraz investigations one day.
In New Alcatraz, Dr. Beauregard informs Hauser that Sonny's blood lacks the colloidal silver to cure Lucy, as not every prisoner was 'taken an interest in.'Hauser angrily swallows defeat as across town, Tommy Madsen once more observes his granddaughter sleeping.
Did you get your fill of time-jumping action? What did you think about the episode? Join us next week for an all-new episode recap of Alcatraz on FOX!