Corey Scott Feldman is an American entertainer, activist, and singer born in California, Los Angeles on July 16, 1971. Altogether, he began his acting career and journey into stardom as a child entertainer in the mid-1980s. He was just three years old when he starred in a popular McDonald's TV commercial.
He also starred in the following blockbuster movies such as Gremlins (1984), The Goonies (1985), Stand by me (1986), and The Lost Boys (1987). Interestingly, Feldman has also starred in numerous television series, including The Bad News Bears (1976) and Mork and Mindy (1978-1982). No doubt, with over four decades in the entertainment business, there are quite a few facts to know about Corey Feldman.
1. Corey Scott Feldman Has A Band
It's no news that Feldman has a career in music with albums plus singles to his credit. His initial album, named "Love Left," came out in 1989. However, in the year 2016, Feldman formed a music band called Corey Feldman and The Angels.
The band itself comprises an all-female line-up (The Angels), except you count Feldman himself. Their trademark characteristics include sophisticated costumes and high-spirited performances accompanied by dance routines. They've released a handful of songs together, and a few of them are Go 4 It, Everbody, Angelic 2 the Core, and Take a stand.
2. Feldman's Third Wife Is A Member Of Corey's Angels
In Hollywood, it's truly no surprise when a marriage goes down the drain. In Corey Angel's case, he's had three marriages. First, he was married to the actress Vanessa Mitchell from 1983 to 1989. Then there was Susie Sprague, who he was with from 2002 to 2009. The product of that marriage was a son they named Zen Feldman.
Last but certainly not least is Courtney Anne Mitchell, who he's still married to since they got hitched in 2016. In fact, their relationship isn't solely a romantic one, but a professional one too. She DJs for the band and plays the keyboard when needed. Occasionally, she sings backup for the band as well.
3. He Was Close Friends With Michael Jackson
Michael Jackson and Corey Scott Feldman first bumped into each other on the set of The Goonies. The two shared a deep love for music and even spent time together at Jackson's Neverland Ranch. Altogether, the actor regarded the King of Pop as a father, mentor, and all-around guide in the entertainment industry.
Here's an interesting tidbit: Feldman delivered backup vocals in Jackson's hit song, Liberian girl. With all this in mind, it's clear why the actor defended his good friend before and after his death amidst all the controversies. Of course, Jackson's death was devastating for Feldman as the pair were quite close.
4. He Has Published a Memoir
To give some insight into his life, Feldman published his memoir, Cloreyography: A Memoir, back in 2013. In the book, readers got a sneak peek into his days as a child actor and the numerous challenges he faced coming up in Hollywood. Even more, he wrote extensively on his early drug and alcohol dependency struggles. For the most part, those troubles stemmed from having an emotionally abusive mother as well as having to ward off child predators in the industry.
5. Corey Scott Feldman Also Released A Self-Funded Documentary
In 2020, Feldman released a follow-up documentaryto his 2013 memoir, Coreyographyt, and it was titled My Truth: The Rape of Two Coreys. The documentary concentrated on his and Corey Haim's sexual abuse claims from their days as young actors. Altogether, it premiered in March 2020 as an online pay-per-view event. While it was meant to unearth many secrets of his past, the star didn't disclose the true identities of his abusers. Naturally, the documentary was met with both positive and negative reviews.
6. He's An Advocate And Activist For Child Abuse Survivors
Being a victim of sexual abuse himself, it's clear why Feldman has decided to work on behalf of other victims. In fact, the motivation behind his documentary was to shed light on the drug parties and sexual abuse most child actors experience in Hollywood. In addition to that, he works with NGOs to deter abuse and neglect of children.
On a higher level, the star was instrumental in raising awareness for the Child Victims Act, which was signed into law in 2019. Altogether, his advocacy inspired criticism, arguments, and opposition. However, he hasn't let all the criticism deter his noble cause.
7. He's Not Just An Actor & Musician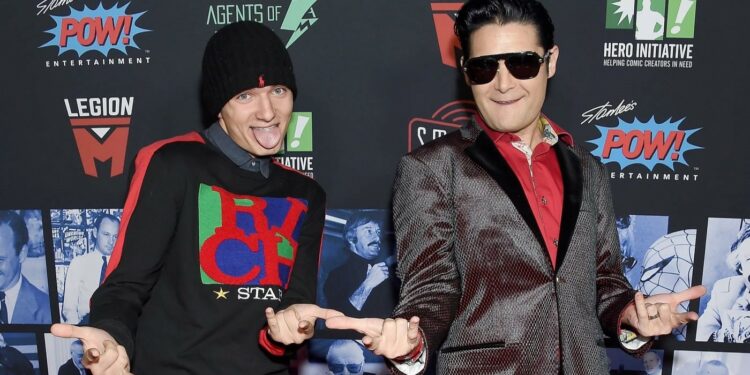 If there's one thing Feldman has proven, it's that he's as versatile as they come. In addition to his acting and music career, he's also dabbled in a few other areas. In 2016, he launched the clothing line Corey's Angels. Altogether, his line focused on celebrating female sexuality and empowerment.
In tandem with the fashion line, the star decided to dip his toes in the reality TV scene for a bit. Some prominent shows he featured include Celebrity Wife Swap (2012) and Marriage Boot Camp: Reality stars (2013). However, Feldman's erratic comments and actions earned him backlash and criticism.
8. Corey Scott Feldman Is An Animal Rights Advocate
Corey Feldman is partners with the animal rights organization People for Ethical Treatment of Animals (PETA). From animal rescue to spearheading several campaigns against animal cruelty, he's super active. The star also collaborates with other animal welfare organizations like Last Chance for Animals, Animal Defenders International, and the Humane Society of the US. Topping that off, Feldman is a proud vegan and often uses his social media platforms to endorse veganism.
Read Next: Side by Side: "Weird Al" Yankovic's "Eat It" and Michael Jackson's "Beat It"follow-up documentary
Tell us what's wrong with this post? How could we improve it? :)
Let us improve this post!