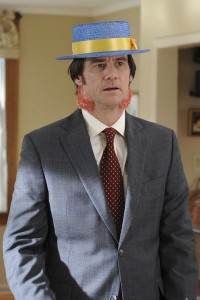 30 Rock season 6 leaps forward in the ninth episode of season 6 with "Leap Day," where Liz and Jenna attempt to seduce a nerdy internet billionaire while Tracy enlists the writers in spending a restaurant's gift card, and Jack must learn the true meaning of Leap Day. Not quite as out there as last week's effort, but "Leap Day" is still worth some laughs despite misuse of guest stars.
After a while, it feels like you lose all track of what to say about a TV series, particularly one that's been going as long as 30 Rock. At this point the discussion turns to examination of how the series stays fresh rather than evolves, in a sense channeling a search for youth above growing up. If 30 Rock had a prime to speak of it would have been sometime during the third and fourth season, but that isn't to say it can't still wring laughs out of its characters. Last week's 'The Tuxedo Begins," which once again I missed out on covering thanks to a Canadian excursion (curse you, awesome set visits to foreign countries!) was just weird* and different enough for 30 Rock to warrant a much greater discussion, but 'Leap Day'is still a measured exercise in more classic 30 Rock
(*) Mind you I was jet-lagged and more than a little hazy, but did 30 Rock seriously turn the Jack and Liz dynamic into a Dark Knight, Jack as Batman, Liz as The Joker parody? It was unique, but lord is that something you never expected from 30 Rock
'Leap Day'isn't the first time 30 Rock has played around with fictional holidays before, thinking back to 'Verdukianism'and other classes stories, though there the holiday's strange and unheard of customs lay within the context of the plot. Leap Day itself as a holiday unfolds more around the storyline, played up as a bizarre 'do-what-you-feel'day amidst Liz and Jenna's efforts to seduce an internet billionaire, Tracy's attempt to spend a $50,000 benihana gift card, and Jack's struggle to get into the spirit of the holiday. The holiday's strange characters and customs make for a few laughs here and there, but 30 Rock becomes less effective when it asks viewers to acclimate to its context, rather than tell unique stories within more familiar settings (see the mixed, if ambitious Valentines'Day two-parter).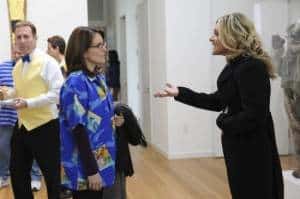 Perhaps it's the omnipresence of 30 Rock in syndication these days, but I've undertaken multiple viewings of first season episode 'Black Tie,'which felt somewhat similar to 'Leap Day'in its awkward seduction subplots with Jenna and Liz. There's always a sort of safety net to these stories, in which you know neither woman will really end up with the person they're dancing around, but I at least appreciated 'Leap Day's'willingness to be cavalier with the Liz/Criss relationship and even continue the idea of Jenna and Paul's sexual walk-about. It did throw a few new devices into the mix; I particularly liked the willingness to carry out a Christmas Carol-style visions of the future with Kenneth as Jack's spiritual guide, but it doesn't end with anyone undergoing any drastic changes indicative of what 'Leap Day'would suggest.
Elsewhere, it's worth noting that Jim Carrey and Andie McDowell guest star within the episode, though they never interact with the story, instead (presumably) playing themselves in a Santa Clause-style movie within the show about Leap Day William. Guest stars can be tricky, but I've always felt they work best as either parodies of themselves or original characters, so there's very little to get out of turns that don't feature any real connection to the show (see: The Office's use of Jack Black, Jessica Alba and Cloris Leachman some years ago) It makes for an amusing distraction, but doesn't offer up any of the magic that makes 30 Rock great.
So far it's been tough getting this season off the ground, what with its late start dates and grouped-together episodes, and while worth a few laughs, 'Leap Day'doesn't really make a strong case for the show's continuation in further seasons.
And Another Thing…
It feels a little cheap to reposition Kenneth as Jack's new assistant, given he'll be doing almost the exact same responsibilities as when he was a page.
Artie Ziff references, anyone? Simpsons did it!
I did get some pretty good laughs out of the brief exchange where Tracy insists Dot Com is an imaginary friend.
Does anyone actually celebrate Leap Day? I'd like to this year.
What did YOU think?
Tell us what's wrong with this post? How could we improve it? :)
Let us improve this post!