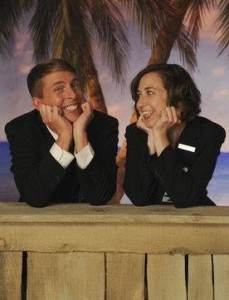 30 Rock season 6 crowns the fifth episode of season 6 with "Today You Are A Man," where Liz re-negotiates her TGS contract with Jack, while Tracy and Jenna perform at a bar mitzvah, and Kenneth questions his future as a page . It's always interesting when 30 Rock experiments with a little character development, and while it cuts down the laughs "Today You Are A Man" seems very promising for the aged series.
Well, it finally happened last night. Either I've completely lost my mind, or Liz Lemon has started talking to me through the television. I'm talking of course of one of 30 Rock's many meta moments last night during 'Today You Are A Man," as Liz directly addresses the camera to assure viewers that after six years, there are still depths to be mined within the friendship of Jack Donaghy and Liz Lemon. It's a boldly assertive statement to be sure, given that most critics watching 30 Rock these days inevitably ask themselves how much more life 30 Rock can have after six years, but at the very least we should appreciate that the 30 Rock staff isn't ignorant of our doubts. Both NBC and the principal cast seem on board with future seasons of 30 Rock, though I doubt if even the better episodes of 30 Rock can put to bed concerns of staleness in advancing age.
Growth and status quo have always been something of a mixed effort for 30 Rock, as many times over the years we've seen potential changes come and go before we've had a chance to acclimate to the idea of Kenneth working at CBS, or Liz Lemon leaving behind the single life. I'm optimistic that an episode like 'Today You Are A Man'can raise questions of this nature again while still feeling fresh, but can we really expect the needle to remain threaded in matters of this nature?
It made for an interesting realization to have Jack discover his emotional ties'benefit as a weapon rather than weakness, while Tracy and Jenna always do well with a bit of (however short-lived) self-awareness, but most of all I remain interested in seeing if anything comes of Kenneth's desire to outgrow the page program. Jack's wonderfully elitist line 'he's a white male with hair, Lemon. The sky's the limit'echoed of a similar Jack sentiment in earlier seasons that 'in five years we'll either all be working for him, or dead by his hand,'and I don't believe it would damage 30 Rock at all to find a new role for Kenneth, much as we love his gentle subservience.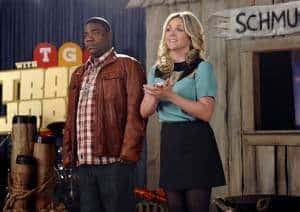 'Today You Are A Man'gives just about everyone in the cast the ability to confront some of their inadequacies and make changes for the better, and while not as laugh-out-loud funny as some of the other 30 Rock episodes this season I appreciate more tightly constructed plots that dovetail around a central idea. I'd go as far as to say that Liz's attempt to re-negotiate her contract by embodying Jack's business strategies represents the weakest turn this week, given how Jack Donaghy figuratively (and literally) takes over for her in a 'Jack-Off,'but it still makes for an effective half-hour setting up new ideas for the season.
Most of all, it's a fantastic reminder of how 30 Rock could never do without Alec Baldwin, who takes such manic delight in switching characters rapidly and playing off himself. I could complain about how it seems so many 30 Rock stories of late either deliberately or otherwise call back to past plotlines (Kenneth having left the page program before, Liz having tried to broker a better job, Tracy and Jenna becoming problem solvers) , but provided things build to some actual alteration to the status quo, or at the very least a little welcomely-acknowledged nostalgia before the end, there's still plenty of room for growth in this six year relationship.
So, Jenna and Tracy will be more expressive of their feelings rather than outburst like children, Jack took back a little bit of his own, and Kenneth might finally look for other opportunities at NBC. I'm on board, but does anyone think it will really last?
And Another Thing…
'Gina Gershon, my nemesis!'
Great guest turn for the vocally recognizable Kristen Schaal filling in for Kenneth as page, who remains contracted for at least a few more episodes.
Hopefully not offending any female readers, but between 30 Rock and The Office what stage of post-pregnancy Tina Fey and Jenna Fischer are? More and more I've been noticing a little age or heft on the actors'parts, mostly Tina Fey and Tracy Morgan. Jack seems to be getting better-looking as Alec Baldwin continues slimming down, but you know something's wrong when the immortal Kenneth even seems a little older!
'Playing with myself. It's a Jack-off!'
What did YOU think?