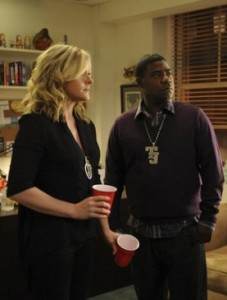 30 Rock season 6 cracks the case in the tenth episode of season 6 with "Alexis Goodlooking and the Case of Pete's Missing Whisky," where Jack coaches Kenneth through a new job, and Liz plays girlfriend to Frank to cover for Lyn (Susan Sarandon) to Frank's mother (Patti LuPone), while Jenna and Tracy solve a mystery. Not quite as well-put together as last week's effort, but "Alexis Goodlooking and the Case of Pete's Missing Whisky" is still worth some laughs despite overuse of guest stars.
Sometimes, I really hate syndication on TV. Sure it might give us a great opportunity to look back on some of our favored series in abundant measure, or even catch stray episodes of popular programs we're not familiar with (I swear, I will never watch The Big Bang Theory from beginning to end), but it also comes with a somewhat nasty reminder. If in fact said show is still on the air, you're inevitably going to draw comparisons between the series in its heyday and the present landscape. It's not always fair to judge the past against the present, but in the case of 30 Rock their prestige and praise over the years carries higher expectation later in its run.
The episode in particular that caught my eye was season 2's 'Succession,'which saw Jack Donaghy as usual looking to climb the corporate ladder in some way, but managed to toy with the typical 30 Rock formula in such a unique way with its operatic conclusion. This was the show at an early creative peak, deftly alternating between the rapid-fire humor and genre parody in a way that still felt distinctly original to the brand. Almost never again can I recall something as inventive as Dr. Spaceman racing down the hallways in a cape with an operatic score behind him, a scene capped with Will Arnett's opportunistic Devon Banks seizing power away from Jack for a multi-episode arc.
That's a hard episode to watch going into the awkwardly titled 'Alexis Goodlooking and the Case of Pete's Missing Whisky,'but one it (albeit unintentially) somewhat rises to the challenge of. In particular, I wasn't'crazy about the idea of pinning Tracy and Jenna for another 'problem-solvers'style plotline of the two investigating things, but the formula took on something of a unique direction in its Law & Order parodies. Specifically, what felt like old hat at first became new again through the eyes of Jenna's recurring flashbacks to her time on generic procedural 'Alexis Goodlooking,'and even if the actual case of Pete's missing whisky was rather short-lived, it felt rather inspired to see Jenna and Tracy acting out the various detective roles, in both demeanor and location.
Likely the most effective story of the night had to go to Jack and Kenneth, as 30 Rock smartly continues the idea of finding a new place for the former page at NBC, even if he likely winds up back to status quo. The plot also calls back to much earlier sentiments of the show, specifically Jack's throwaway line of Kenneth 'in 5 years, we'll either all be working for him, or dead by his hand.'This felt like a logical extension of that premise, and it's a shame we had to wait so many years to see it inch closer to fruition. Jack has good deal of wisdom to offer Kenneth in his climb up the corporate ladder, and so too does it feel rather fresh to explore new settings for the pair. Not to mention, we've all been through a bit of corporate paranoia in our careers, and Jack and Kenneth make great lenses with which to view sch a malleable concept
Less effective this week was the guest-star heavy A-story of Liz finding herself caught up in Frank's love and home lives, as the plot literally bursts forth from nowhere in the opening moments of the episode. It did tie in with the better parts of the episode in that it hearkened back to a previous 30 Rock plotline, but since the story unfolded around Liz rather than with her, I'm hard pressed to find much interest in Frank or celebrity guest-stars like Patti LuPone and Susan Sarandon if we havent'spent much time getting to know them.
Surprisingly good, and color me interested in playing out more of Kenneth's time in 'Standards and Practices'next week.
And Another Thing…
I was unfamiliar with the D.B. Cooper referenced by the interior of Kenneth's suit jacket, one of several 30 Rock jokes tonight I found myself needing to Google.
I'm risking the karma police by even saying this, but between Nathan Fillion and Tracy Morgan these days, someone buy a treadmill!
The direction makes some interesting choices, subtly switching to Dutch angles in scenes of Tracy and Jenna even in real life.
'He makes Stefan Urquel look like Steve Urkel.'
What did YOU think?