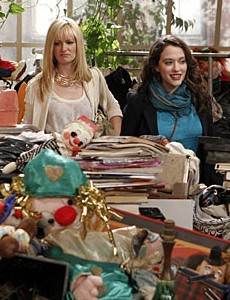 2 Broke Girls pulls together its latest effort "And Hoarder Culture" from its first season, which sees Max (Kat Dennings) taking a step forward in her relationship with Johnny (Nick Zano), while Caroline (Beth Behrs) lands a new job organizing a Hoarder's apartment. "And Hoarder Culture" serves up some of 2 Broke Girls' usual fare, but there's an intriguing undercurrent that may require a deeper, more theatrical examination.
It can be difficult to review an ongoing TV series week after week, particularly in your sophomore effort. When last I watched 2 Broke Girls 'And the Pretty Problem'I attempted to penetrate as deeply as I could*, so finding the next step in what to say a second time around with 'And Hoarder Culture'might seem superfluous given my already ill-tempered disposition toward CBS, and the modern three-camera sitcom.
I want to like 2 Broke Girls, I do. For all its crudity, the series mines some truth now and again, and I'm a sucker for all things Kat Dennings. Having a background in the theatre myself, 'And Hoarder Culture'did manage to grab my attention with its distinctly Shakespearean feel, more than mere reference but the occasional wordplay, symmetrical storytelling and lyrical wit. Sure, 'And Hoarder Culture'still managed to wherever possible lob near of every penis and 69 joke imaginable, but even the Bard had his more bawdy temperaments.
If there's any reason to like tonight's 2 Broke Girls however, it'd be the lady herself, Kat Dennings. Kat gets to show off a far broader range than the typically dour and shrew-like Max, here manically cheerful at the Hoarder's unendingly absurd collection, or genuine in her relationship with the returning Johnny. I can't yet put my finger on why the dynamic between Max and Johnny works as well as it does, but I like Kat Dennings displaying a wealth of colors in an otherwise clichéd plot.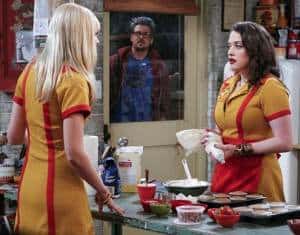 'And Hoarding Culture'also gives off an interesting metaphor in the way people hoard emotions much as real Hoarders gather useless junk. There's value to be held in the lesson for both Max and Caroline as they avoid dealing with the emotions creeping their way through the walls they've put up, a sentiment far deeper than I would normally expect to find in a show like this. Johnny even provides a refreshing turn by admitting his hoarded feelings about Max in not knowing what to do with his current girlfriend, in turn fleshing out the otherwise cool customer (pun…intended).
In the end, it's all still very cute and schmaltzy as you'd expect a three-camera sitcom to be, though I give points for Johnny's tagged billboard as an inventively original display of feelings. The story didn't go in the direction I'd assumed, namely that Max's revelation about hoarding her feelings for Johnny would translate into Caroline realizing she'd not properly dealt with her own sad situation. For the moment, I'm undecided if that's a surprisingly unique turn, or a sloppily missed opportunity, but nevertheless I remain amused.
And once Mr. Shakespeare stops spinning in his grave, he might even crack a smile or two.
And Another Thing…
*Honestly, how far am I supposed to get into a 2 Broke Girls review without a sex joke?
I now have a visual of Angela Lansbury begging for it in a diner booth. Thank you, 2 Broke Girls.
As a young (ish) writer in New York City, I can appreciate the Craigslist and Manhattan-related humor, and not simply in a Family Guy 'ha, that reference appeals to us!'way.
'He likes you with his penis.'Wow.
'Black and British. The two cool things I can never be.'I hear that.
What did you think?