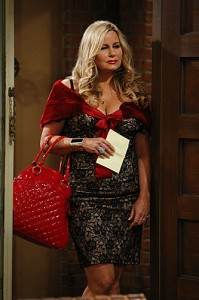 2 Broke Girls strikes up with its latest "And the Upstairs Neighbor" from its freshman season, which sees Max (Kat Dennings) and Caroline (Beth Behrs) growing suspicious of their new upstairs neighbor Sophie (Jennifer Coolidge), while re-evaluating their business sense. "And the Upstairs Neighbor" could spark a faint glimmer of optimism for the troubled series, depending on what you're willing to see.
I regret that for one reason or another, I found myself unable to attend the TCA press tour this year, and thus missed out on the very public shaming most critics offered the stars and creative minds of 2 Broke Girls for its unabashedly lewd and even racist humor.
I don't find 2 Broke Girls to be all that much more crass than some of the other sitcom schlock I've seen around town these days, nor do I believe there was anything to be accomplished by confronting creator Michael Patrick King so harshly, but I imagine the panel made for a rather cathartic experience to most critics.
'And the Upstairs Neighbor'almost seems like a response to some of 2 Broke Girls biggest critiques, moreso in concept than execution, but at least some effort is made to highlight new characters and avenues through which the girls can continue exploring their dream of starting a bakery. Tonight's episode marks the arrival of Jennifer Coolidge (American Pie)'s recurring Polish upstairs neighbor Sophie, who despite the initial friction ends up suggesting more than a few ways the girls could advance beyond their current situation. There the introduction of a higher class restaurant the girls could leave the diner for, extra cash picked up by joining Sophie's stable of cleaning women, or even the simpler idea that like Sophie herself, Max and Caroline might find little ways of bringing their dreams into the present.
Of course that all makes for fine wishful thinking, if Sophie herself weren't in complete keeping with 2 Broke Girls racist caricatures, or a one-note joke about maids being mistaken for prostitutes that Seinfeld and a dozen better sitcoms covered years ago. Granted I've never conclusively heard a Polish accent before, and initially believed the accent to be of Russian caricature, but suffice to say I doubt if anyone finds the character realistic enough to take seriously.
There's nothing wrong with Jennifer Coolidge as an actress, in fact her exaggerated mannerisms and physique fit perfectly in with 2 Broke Girls'vibe, but designing the character as another stereotype only hampers what contributions she has to the show's dynamic.
If anything, we might be missing the point of 'And the Upstairs Neighbor'by concentrating so strongly on what 2 Broke Girls does wrong. Often times I find myself firmly entrenched in Max's world view of pessimism, and the belief that most things only get worse over time. It's a dark world we live in, full of groan-worthy sitcoms that garner millions in ratings night after night, films that repeat endlessly on straight-to-DVD sequels, and yes, people that put nuts in brownies, but we owe it to ourselves to find the brighter corners of existence, however faint.
I will chuckle now and again at 2 Broke Girls ability to turn a phrase, or wreathe a wry smile at the unexpected depth of dirtier jokes, and we will always have the faint optimism that 2 Broke Girls can evolve beyond its more broad humor toward something akin to CBS'more intelligent comedies. The seeds have been sown for a stronger focus on Max and Caroline's dreams, and the critics certainly had a chance to make their voices heard.
Sometimes, there's nowhere to go but up(stairs).
And Another Thing…
I'm astonished that 'And The Upstairs Neighbor'found no occasion to pair Sophie with 2 Broke Girls' other Eastern European caricature Oleg, but perhaps they're saving that one for down the line.
2 Broke Girls certainly gets some details of city living right, namely that I have no idea who any of my neighbors are. And between car alarms and scurrying upstairs dogs, eventually you forget all about the illusion of silence.
What was up with the bonehead product references this week, like Call or Duty or the (admittedly useless) 3D TV?
Perhaps they gave the character heels, but I had no idea Jennifer Coolidge was that big of a woman. Not overweight per se, but Amazonian compared with the girls.
Also, Beth Behrs in short shorts? I'm normally a Kat Dennings man, but…mmmhmm.
What did YOU think?